Parade, Presidential visit and other events bring huge crowds to both sides of Bay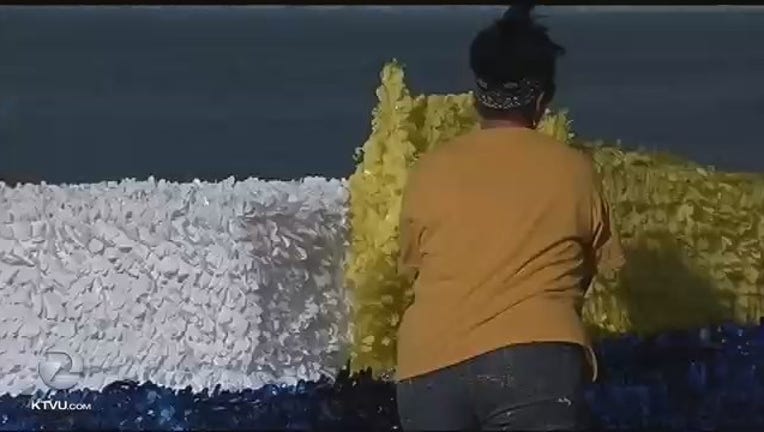 article
SAN FRANCISCO, Calif. (KTVU) - As the Golden State Warriors NBA Championship celebration winds down in Oakland about 2:00 p.m. Friday, other big events in San Francisco could draw many crowds to the Bay causing congestion for travelers Friday.
San Francisco's City Hall Centennial celebration is scheduled from 6:00-11:00 p.m. at Civic Center, with several street closures on surrounding blocks.
Crews are working fast to prepare three stages for musical performances and a big light show. It's a swift setup for one contractor Accurate Staging which is handling both the San Francisco City Hall event and the Warriors parade in Oakland.
"For the Warriors we have some camera platforms that we'll be setting up in Oakland," said Jong Kim, Accurate Staging Project Manager, "It's been exciting. Very tiring as well. We've been working very long hours."
Friday also marks the start of the U.S. Mayors Conference which will bring 277 mayors from across the country to the Union Square Hilton hotel.
Plus, President Obama is scheduled to be in San Francisco Friday to speak at the Mayors Conference and attend a fundraiser.
"As he travels around the city you can expect delays as the motorcade travels. We do shut down streets," Officer Grace Gatpandan, a San Francisco police spokeswoman told KTVU.
The City Hall Centennial celebration is expected to draw more than 12,000 people. City Administrator Naomi Kelly says the free outdoor event will include music genres that span the century, food trucks, and family-friendly attractions.
"Everything from a Ferris wheel to jugglers and dancers going on, and at 9:30pm we are going to unveil a fabulous lighting show," Kelly said.
Crews are installing 220 LED lights for a multi-media projection on City Hall. The show will include a tribute to the Golden State Warriors NBA Championship title.
Inside city hall, Crews are setting up red curtains to roll out a red carpet for the U.S. Mayors Conference attendees who will attend a private celebration under the rotunda.
Police recommend people take public transportation and some residents say they'll think twice before hitting the road.
"I will probably avoid driving if possible on Friday this week," said Ana Ayala, a San Francisco resident.