Parents hold public forum to address the state of San Francisco schools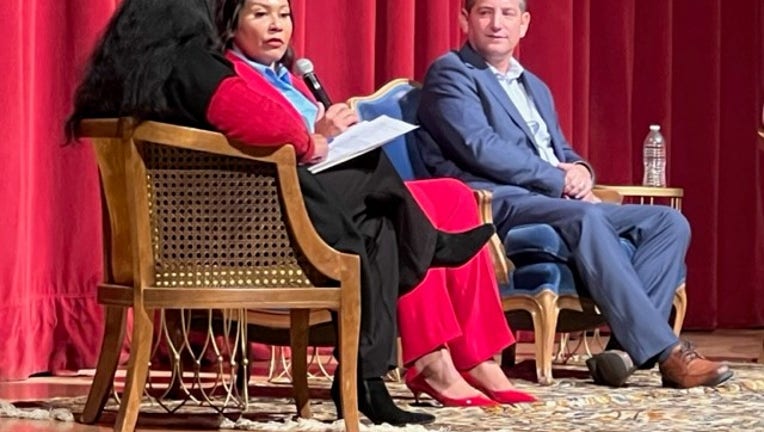 article
SAN FRANCISCO, Calif. - It was a packed theater at Lincoln high school in the Sunset District Wednesday evening. Parents, students, teachers, and community members came to hear more about some of the pressing issues facing the San Francisco Unified School District.
The public forum was organized by the San Francisco Parent Coalition to discuss the state of the city's public schools. 
A panel of city leaders took to the stage in the high school theater to discuss challenging budget issues, closing the education gap and supporting students and families, while retaining, recruiting, and empowering teachers.
Along with superintendent of schools Matt Wayne, the panel discussion included Mayor London Breed and State Assembly member Phil Ting who spoke about the state's budget when it comes to public school funding. 
Ting said, "We're still overcoming learning loss, and mental health challenges brought on by COVID by our teachers, staff, and students.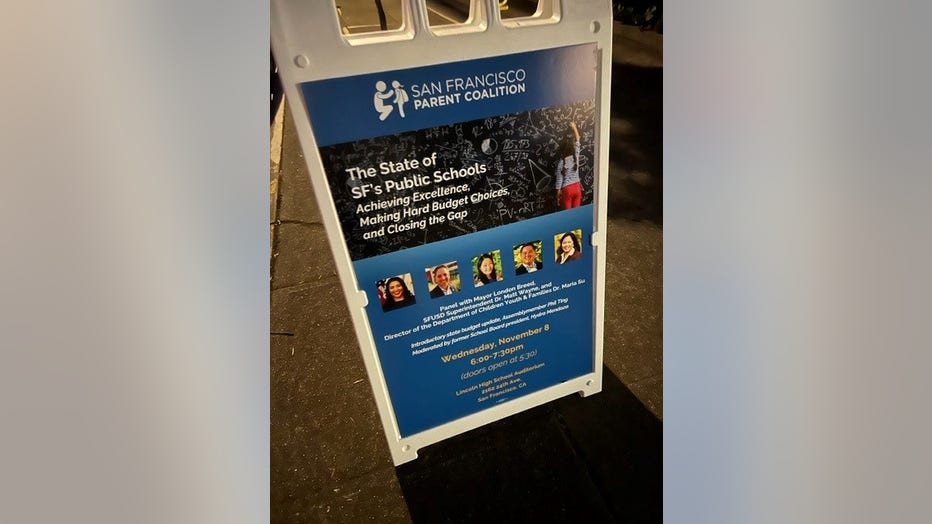 SF Parent Coalition signage (Alice Wertz)
He continued with, "About the only good news I can give you is we've seen a huge jump in state funding." 
As Assembly budget chair, he did share some realities of what schools deliver today, saying "It's no longer just reading, arithmetic, math, sciences. It's so much more. You need to have meals, and make sure kids are fed. We don't have enough nurses, but nurses play such a critical role! We don't have enough social workers, but we know they're essential, so that our kids can actually learn." 
SFUSD Superintendent Matt Wayne, spoke to the needs for all schools to meet students where they're at, saying "I think that sense of coherence and alignment and focus is driving us, so when those students are spending one thousand hours in the classroom, they're engaged and getting what they need to be successful."
As a panelist, Mayor London Breed spoke to the need for partnerships within the private and public sector as a force for inspiration for students. 
She said, "I want to see more of a connection between our kids who are in our school system and opportunities for them to experience what is happening in San Francisco." 
A few teachers we spoke to said they wished they had a representative on the panel, as they are in the classroom every day.
As for parents' reaction to what they heard tonight, Meg Kammerud, a parent of two students in the district said, "It's way past time that adults stop focusing on adults and politics and focus on the students. Meeting students where they are!"
She shared she's become more involved than she ever thought she would be in school advocacy, locally and statewide. 
Kammerud said, "We gotta fight for all the kids in California!"
Alice Wertz is a freelance reporter for KTVU Fox 2 News. She can be reached at Alice.Wertz@Fox.com