Partying teens investigated after Walnut Creek fire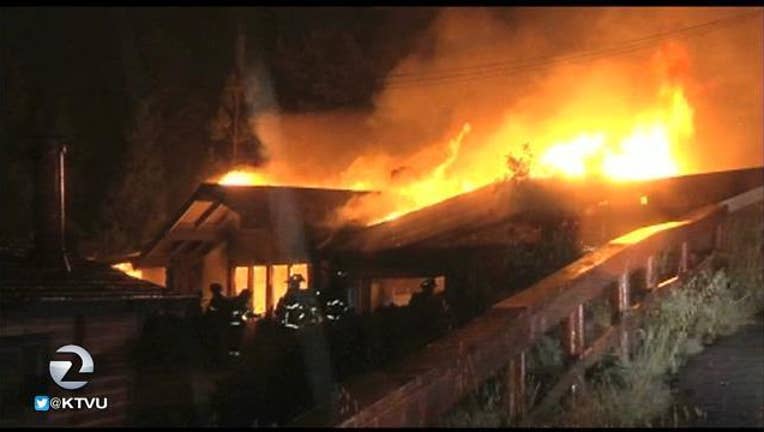 article
The incident was first reported at 12:32 a.m. at a house in the 400 block of Arbol Via. The fire was under control by 1:34 a.m. according to dispatchers with the Contra Costa County Fire Protection District.
A spokesman for the Contra Costa Sheriff's Office said deputies were called to the house around 9:00 p.m. for a house party. Upon arrival, more than 100 teenagers fled the area.
According to authorities, the residence had been vacant for about four to six months and did not have electricity.
Neighbor Janet Goodman is concerned.
"This is the second fire in a week in such a quiet neighborhood," Goodman said. "We came home around 11:00 p.m. and saw a sheriff's car parked at the end of Arbol Via."
Fire Captain George Laing said cause of the fire remains under investigation.
"A vacant house in an isolated area with beautiful view would be attractive to those who are interested in doing things outside the public view," Laing said.
Because of the large number of teenagers in attendance, investigators are looking into the possibility that word of the party spread on social media.
"We've heard from sheriff's deputies that this event was advertised on Facebook," Laing said.
Laing said he had not seen the post himself.
The fire was hard to reach on a narrow road and it was a stubborn, deep-seeded fire to extinguish. Luckily, it was raining during the fire, which prevented embers from spreading and burning neighboring homes.
"If this were a month from now this could have been a devastating fire," Laing added.
"I'm scared to death for this fire season," Goodman said. "We were very lucky we weren't in the middle of high fire season."
The damage is estimated at $750,000 and the incident commander described the house as "totally destroyed" on Twitter.
Investigators are asking anyone with information about the fire or the party that was occurring at that location to call (866) 50-ARSON or (866) 502-7766.