'Very teachable moment': Pennsylvania Senator John Fetterman draws praise for getting help for depression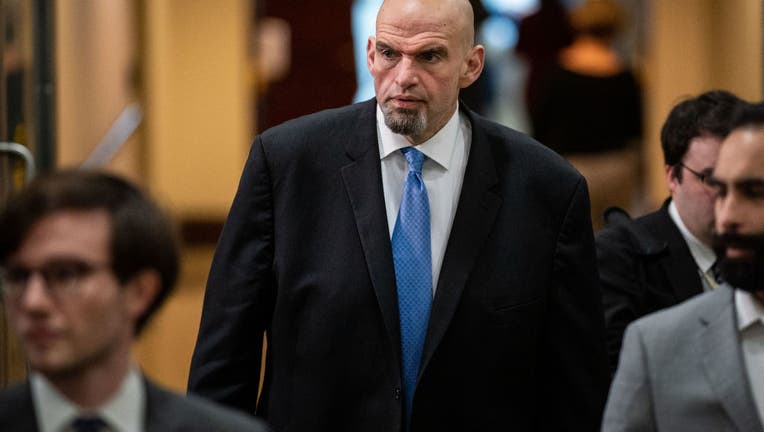 article
WASHINGTON - When Patrick Kennedy was in Congress, he would sneak in his treatments for substance abuse over the holidays, in between congressional work periods. And he refused mental health treatment recommended by his doctors, worried he would be recognized in that wing of the hospital.
Kennedy, a Rhode Island Democrat and the son of the late Edward Kennedy, was eventually forced to reveal his struggles when he crashed his car outside the Capitol while intoxicated in May 2006. He talked openly about his mental health and substance abuse for the first time, and something surprising happened — he became more popular with his constituency, winning reelection by a bigger margin than he had two years earlier.
RELATED: Sen. John Fetterman checks into hospital, cites clinical depression
On Thursday, the office of Pennsylvania Sen. John Fetterman, a Democrat who was elected to the Senate after a bruising campaign during which he suffered a stroke, announced he had checked himself into the hospital for clinical depression. The statement said Fetterman had experienced depression on and off in his life, but it had only become severe in recent weeks.
Fetterman's public struggle is extraordinary in a building where few talk about their own mental health, even while members of both parties have legislation to expand aid for it. Kennedy and a handful of others who have been open about their own problems, or those in their family, say they hope Fetterman's honesty — and his decisive action to get help — will foster more openness among lawmakers and their constituents in the wake of a global pandemic that has had far-reaching effects.
"This is a moment for us to tear down the stigma of depression and anxiety," said Kennedy, who retired in 2010 and has become a leading voice on mental illness. "Sen. Fetterman may do more for people just by admitting that he's getting help for depression than any bill he ends up sponsoring."
The U.S. Surgeon General, Vivek Murphy, tweeted praise for Fetterman, saying he hopes his "courage will serve as an example for others."
Fetterman's Senate colleagues were immediately supportive.
"In every single city and town and rural community there is someone struggling with mental health," said Minnesota Sen. Tina Smith, a Democrat who shared her own stories about periods of depression on the Senate floor four years ago. "If they see somebody else, like John, saying, 'OK, I need to get medical care,' that can be important to people."
South Dakota's John Thune, the Senate's No. 2 Republican, said he thinks politicians have become more comfortable discussing the issue since the pandemic.
"The more open, transparent people can be, the better our understanding is," Thune said.
Fetterman's hospitalization comes after a rough year in which the 53 year-old suffered a stroke just ahead of the May primary election and spent much of the summer off the campaign trail, recovering. He has said the stroke nearly killed him. He also underwent surgery to implant a pacemaker with a defibrillator to manage two heart conditions, atrial fibrillation and cardiomyopathy. He entered the Senate in January, where he has had to adjust to life in Washington and the daily grind of a federal lawmaker.
"It's unreal what @JohnFetterman has been through in the last year," tweeted Sen. Chris Murphy, D-Conn. "A stroke, a recovery, a bruising campaign, a transition to the Senate. I'm so proud of him for taking his health seriously. He's going to be a great Senator for a long time, and I'm pulling for him today."
Texas Sen. John Cornyn said the Senate "can be arduous. So I'm sure if somebody is not up to 100% then it's especially tough, so I wish him well."
Post-stroke depression is common, doctors say. And that could be even more difficult when dealing with it publicly, like Fetterman is.
"Having a stroke in and of itself is devastating and having to recover from a stroke in the public eye only adds to the level of stress as one recovers," said Dr. Bruce Ovbiagele, associate dean and professor of neurology at the University of California-San Francisco.
Dr. Eric Lenze, head of the Department of Psychiatry at Washington University in St. Louis, said he thinks it's "interesting and heroic" for a major political figure to acknowledge depression, "instead of saying they're hospitalized for exhaustion or trying to hide it."
While many members are still loath to talk about themselves or their own hardships, some have been more forthcoming about mental illness in recent years. Pennsylvania Rep. Susan Wild declared from the House floor in 2019 that suicide is a "national emergency" and told the story of her partner, who had recently taken his own life. Rep. Ritchie Torres, D-N.Y., who was elected in 2020, has said he dropped out of college and at times thought of suicide after struggling with depression, substance abuse and grief after the loss of a friend. Smith said she found that ever since she told her own story of periods of depression as a college student and young mother, people still come up to her to talk about it.
Many lawmakers have also been open about their fear and anxiety after the Jan. 6, 2021, Capitol insurrection, when many of them ran for their lives, and the months afterward when tensions between the two parties became even worse. Democratic Reps. Dan Kildee of Michigan and Annie Kuster of New Hampshire both talked about dealing with post-traumatic stress during that time.
The Jan. 6 attack was another inflection point amid the global pandemic.
"We're living in a time of extraordinary stress and crisis," said Maryland Rep. Jamie Raskin, who lost his son to suicide just a few days before the insurrection and has since written a book about his experience. "We've come through a plague, we've had tremendous mental and emotional health problems."
Raskin, who was recently diagnosed with cancer, says there may have been a time when political leaders had to pretend that hardships didn't touch their own families, "but I don't think we are living in that time."
Illinois Sen. Dick Durbin, who has been in the Senate for almost three decades, credits returning veterans from the Iraq war and other conflicts "who have convinced us that this is simple medical, mental health care that many people need from time to time. There isn't a single family that isn't touched by it."
Durbin, the No. 2 Senate Democrat, credited Fetterman for being honest. "This is a challenge, unimaginable challenge, that he's faced in life," Durbin said.
Kennedy says that when he returned from his recovery in the mid-2000s, many of his colleagues sought his help and advice privately. And he has continued to talk to some members in the decade since he retired.
He predicted Fetterman could find a "whole new world of connection with his constituency" when he returns to the Senate, and could help people understand the brain science behind depression.
"This is a very teachable moment here," Kennedy said.