Arizona family describes scary 'free-falling' flight from Phoenix to Hawaii
HONOLULU (AP) - Nearly a dozen people were seriously injured when a flight to Hawaii was rocked by severe turbulence on Sunday about 30 minutes outside Honolulu, an emergency response agency said.
Eleven people on the Hawaiian Airlines flight from Phoenix were taken to multiple emergency rooms in serious condition, and nine others were transported in stable condition, the Honolulu Emergency Medical Services said in a statement. A call about the episode came in shortly after 11 a.m.
Responders treated 36 people, the agency said. Of those, 20 people were transported for further medical treatment, the youngest of whom was 14 months old. The agency said the wounds included a serious head injury, lacerations, bruising and loss of consciousness.
Passenger Kaylee Reyes told Hawaii News Now that her mother had just sat down when the turbulence hit, and did not have a chance to buckle her safety belt.
"She flew up and hit the ceiling," Reyes said.
Hawaiian Airlines in a statement said 13 passengers and three crew members were taken to area hospitals for further care. The airline said the plane was carrying 278 passengers and 10 crewmembers, and landed safely in Honolulu about 10:50 a.m.
The differing number of injuries could not immediately be reconciled. The airline said it plans to hold a news conference later Sunday.
Thomas Vaughan, a meteorologist with the National Weather Service in Honolulu, said there had been a weather advisory out for thunderstorms that included Oahu and areas that would have included the flight path at the time of the incident.
NTSB releases preliminary report
On Jan. 13, we obtained a preliminary aviation investigation report on the incident, which was published by the National Transportation Safety Board.
According to a portion of the report, the plane, identified as an Airbus A330, was about 40 minutes away from landing at Honolulu International Airport when the plane experienced severe turbulence.
The plane's captain, according to the preliminary report, said a cloud shot up vertically, like a smoke plume, in from of the airplane in the seconds before the incident, and there was not enough time to deviate.
"Within about 1 to 3 seconds, he said the airplane encountered severe turbulence. Shortly after the turbulence-related upset, the lead flight attendant informed the flight crew that there were multiple injuries in the cabin," read a portion of the report.
Arizona family describes scary flight
The morning flight started out all smiles for a Peoria family but turned into panic, fear and chaos half an hour before landing in Hawaii.
"It was a smidge of a rumble of turbulence and then it was an immediate drop. It felt like Guardians of the Galaxy, just that free-falling. Three minutes of absolute panic," Megan Manning said.
During that time, she says everything and everyone not buckled or fastened down on Hawaiian Airlines flight 35 went flying.
"There was alot of screaming," Manning said.
Weather was clear, according to Manning. They had no warning, as the captain later acknowledged.
"The captain came on and said he was apologetic, but he said, 'It was clear turbulence. I had no way of seeing it was there. It was just out of the blue,'" Manning recalled.
She, her husband and two kids – 4 and 8 – were not injured. She says though her family was shaken, they pushed on.
Air travel experts assure that this level of turbulence is very rare.
Friends detail their experience
Ethan Willis and Kameron Hutterly were on the way to Hawaii when "all of a sudden the plane just drops," saying "it was a feeling of zero gravity."
"I'm in the air, Ethan's in the air. I hit the ceiling, Ethan hit the ceiling. I flew up almost touching the top of the plane's cabin. I was up in the air for like three seconds. It was nuts," Hutterly said.
The best friends were on Hawaiian Airlines flight 35 heading to the islands for Hutterly's dad's wedding.
"All you could really think about is jeez, is this going to be the last? Is this how it's going to end?"
The friends were enjoying their movies when the plane took a nosedive and everyone on board went up.
"My head was pressed up. I have neck injuries and back injuries. I didn't get beat up, but I definitely broke the air conditioning and the lights. He hit the top of the plane ceiling," Willis said.
Their injuries weren't as bad as others.
"The lady behind me was actually in the bathroom when that happened. She had lacerations on her neck, her head. She couldn't walk," Willis said.
There were thunderstorms reported in the area, but aviation expert Chad Verdaglio says this could have been a case of clear air turbulence. Sometimes, it just happens.
"It can happen at really several different altitudes. It can be caused by a mountain wave, air moving at a high speed over a mountain range. Kind of like you imagine water flowing over boulders in a stream," he said.
While terrifying to experience, it isn't as dangerous as you might think.
"Turbulence happens every day, but it's rarely the cause of a crash that brings down an aircraft," Verdaglio said.
Even still, the friends are thankful the captain and crew who brought them all back to the ground in one piece.
"When I was getting off the flight, the pilot was crying a lot. Even he knew that things got messy, and you just can't prepare for something like that," Willis remarked.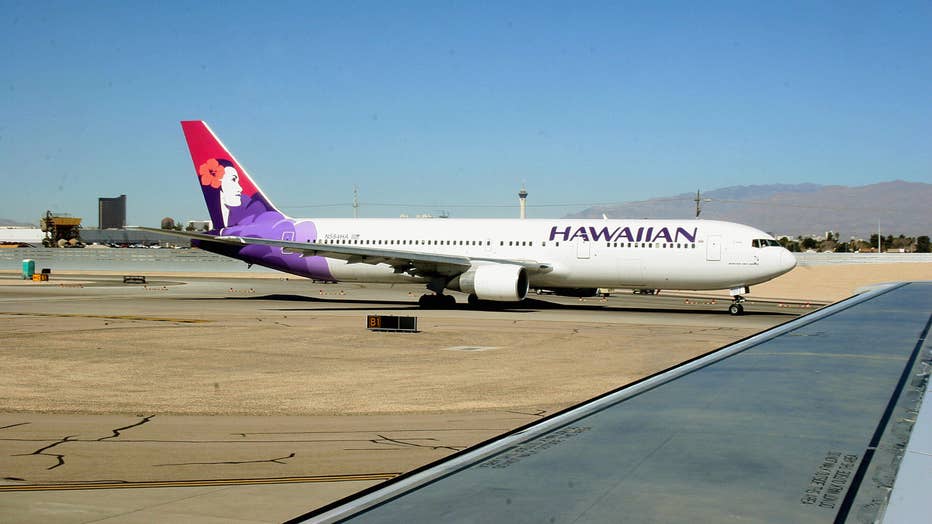 Washington, UNITED STATES: A Hawaiian Airlines jet taxies out to the runway at Phoenix Sky Harbor International Airport in Phoenix, Arizona 14 February, 2006. AFP PHOTO/Karen BLEIER (Photo credit should read KAREN BLEIER/AFP via Getty Images)