Pink diamond auctioned for record $71.2M in Hong Kong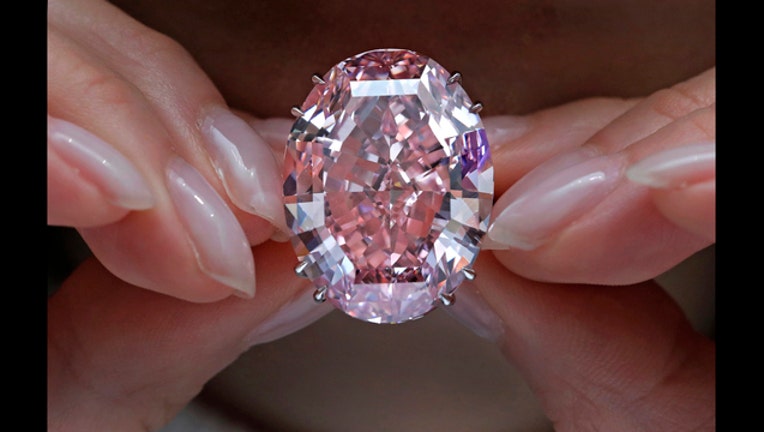 article
HONG KONG (AP) - A stunning 59.6 carat diamond known as the "Pink Star" sold for $71.2 million at a Sotheby's auction Tuesday in Hong Kong, setting a new world record for any diamond or jewel, according to the auction house.
The oval mixed-cut diamond smashed the $60 million pre-sale estimate set by Sotheby's when it went on the block.
The sale comes three years after the gem was sold at an even higher price at another Sotheby's auction in Geneva. That deal later fell apart after the buyer defaulted.
The gem is the largest flawless fancy vivid pink diamond ever graded by the Gemological Institute of America.
Three telephone bidders competed for the stone during five tense minutes of bidding. The crowd in the packed auction room applauded when it was sold for a hammer price of $63 million , not including the buyer's premium.
Sotheby's Asia Chairwoman Patti Wong said the winning bidder is Hong Kong jeweler Chow Tai Fook
"We're very happy," Wong said. "I know there was a lot of talk about the economy in China not being as positive as it was a few years ago," but the results from its jewelry auction Tuesday, which included nearly 200 other lots, were very strong, she said.
Wong said the company is not worried about another default because the bidders were vetted and have longstanding relationships with Sotheby's.
"We're very, very confident that all three bidders had the financial capability, and of course the buyer definitely had the financial capability," she said.
Until now, the most expensive diamond ever sold at auction was the "Oppenheimer Blue," which fetched 56.8 million Swiss francs (then $57.6 million) last May. The previous world auction record for a pink diamond was $46.2 million for the 24.78 carat "Graff Pink" in 2010.
Sotheby's decided the time was right to bring the diamond back to the market because of rising demand from wealthy Asian buyers.
"The Asian element in the jewelry market is extremely important and from what I've been hearing from members of the trade I've been talking to, in the last six months they have become more and more important," said David Bennett, chairman of the auction house's jewelry division.
The "Pink Star" was mined in Africa by De Beers in 1999 as a raw 132.5 carat gem and cut over a two-year period. In November 2013 it was auctioned for a record $83 million to New York diamond cutter Isaac Wolf, who failed to pay.
The auction house was then forced to buy the diamond itself because had guaranteed a $60 million sale price. Last year it sold an unspecified stake in the diamond, valued at $72 million on its balance sheet, to two companies, diamond specialist Diacore and New York jeweler Mellen Inc.