Piscotty felt 'mom was with me' during his return to A's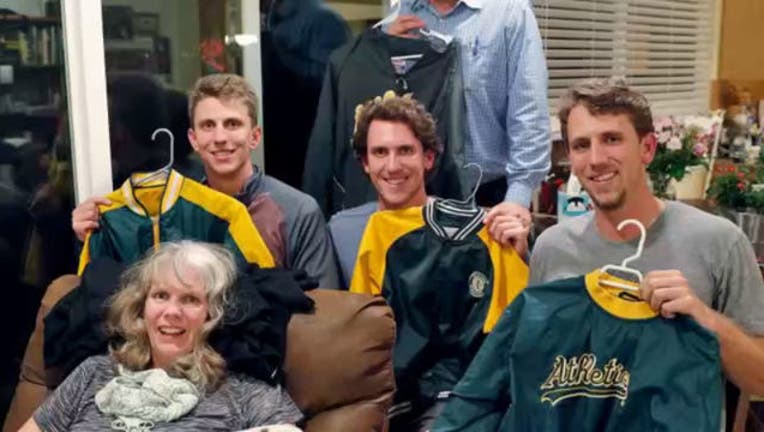 article
OAKLAND, Calif. (AP) - Wherever he went on the field, Stephen Piscotty felt his mother's presence.
Two days after Gretchen Piscotty died from Lou Gehrig's disease, her son was back at work for the Oakland Athletics. Full of sadness, but enveloped in love.
"All day, I didn't feel alone. I felt like someone was with me," he said a day later, on Wednesday. "I had a round in batting practice where I hit five homers out of five and I've never done that. That's not me."
"I didn't feel alone. I felt like there was someone with me yesterday. I know it was her. She was with up there during that at-bat," he said.
Piscotty received an extended ovation from the Coliseum fans before the first time he hit Tuesday night. Prior to stepping to the plate in the second inning, he placed his hand on his heart -- a gesture of appreciation for the reception in memory of his mother.
"That's something my mom would do when she wasn't able to speak," Piscotty said in his first remarks since her passing. "This was just, `I love you and thank you'. That's what I did in the box and that's kind of her way of saying. I'm going to keep that with me."
Houston pitcher Lance McCullers Jr. walked behind the mound to let Piscotty soak in the emotion. Several of McCullers' teammates clapped along with the crowd.
"I feel for him and I feel for his family," McCullers said. "From everything I've heard, he's an awesome guy. I just wanted him to have some time to be able to come up and have the fans recognize him. I wanted that moment to be his."
Piscotty then singled to right as the crowd burst into more cheers.
"It was a special moment," Piscotty said. "I got in the box and heard the crowd start to roar and stepped out. I just wanted to acknowledge and to say thank you for all the support the A's community has given me. It was a cool moment and I know my mom was watching."
Later, Piscotty's father, Mike, was interviewed on the scoreboard.
"Thatta boy, Stephen," his dad said.
Gretchen Piscotty died Sunday night at 55. She was diagnosed with amyotrophic lateral sclerosis in May 2017 when her son was with St. Louis. The Cardinals traded him to Oakland in December in part to allow Piscotty to be closer to his home in the East Bay suburb of Pleasanton during his mother's illness.
The A's outfielder was with his mother when she died. He did not play Monday, but came back to a warm reception from both the A's and the Astros, who sent him a card before to the game.
Piscotty caught the first ball of the game, a fly to right by George Springer, then went 1 for 3 in a 4-2 loss. Asked if the hit was the best of his career, Piscotty smiled.
"That's one of the most memorable, for sure," he said. 
Piscotty was in the A's lineup again Wednesday against the Astros, but will not accompany the team to New York for the start of a trip at Yankee Stadium. He will rejoin the team following a celebration of life for his mother on Monday.
Playing ball was a natural step for the 27-year-old Piscotty.
"It felt right," he said. "It's been an emotional roller coaster. There's obviously a lot of sadness but some relief. It felt good for my family to kind of have something to cheer about. It felt good for me to get right back where I belong."
Oakland planned to honor Gretchen by matching up to $50,000 in donations made to the ALS Therapy Development Institute via youcaring.com/piscotty .
Chicago Cubs pitchers Yu Darvish and Jon Lester, who faced Piscotty when he was with the Cardinals, were among those who contributed.
"On one of the donation pages we were able to get $20,000 in just a matter of two days," Piscotty said. "With the contributions from the A's and their matching of that money, it's already over $100,000. That's overwhelming. I have so much thanks for everyone who stepped up. Jon Lester and Yu Darvish contributed huge amounts. I want to thank them personally. It's overwhelming.
"ALS needs the funding. It's going to such a good cause that it warms my heart. I want to keep the momentum going. Once the dust settles, I'm speaking with my agent. We're going to come up with some other cool ways to raise money. It's going to be my mission. I'm prepared to accept it," he said.
Piscotty was most thankful for the trade that allowed him to be at his mother's side for the past six months.
"I can't imagine being 2,000 miles away or in a different place and not being around what all's been going," Piscotty said. "The trade has meant the world to me and I know it did to my mom. Being able to really share every last moment together was something that just warms my heart. I'm so grateful for it. I'm at a loss for words. I'm just so glad to be home."