Plouffe grand slam, Dozier homer lead Twins past Athletics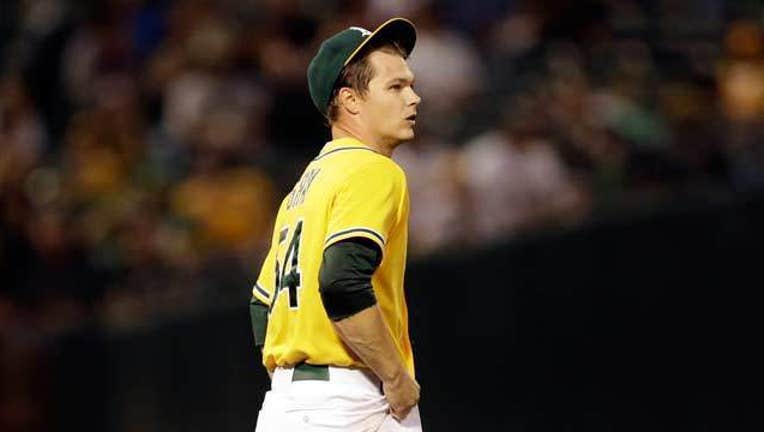 article
OAKLAND, Calif. (AP) -- Ervin Santana received the game ball from Joe Mauer after his first win with Minnesota, and he waited months to finally earn it.
The Twins' power hitters provided him plenty of support, too.
Trevor Plouffe hit a grand slam against All-Star Sonny Gray in the sixth inning after Brian Dozier led off the game with his 20th home run, and Minnesota beat the Oakland Athletics 5-0 on Friday night.
Santana worked out of a bases-loaded jam in the third and won in his third start since returning from an 80-game suspension for performance-enhancing drugs.
"It's big for him, it's big for us," Plouffe said of Santana starting strong in the second half. "We know the kind of pitcher he is. He's got a track record."
Plouffe connected for his second career grand slam, both this year, to back 7 2-3 strong innings by Santana (1-0).
It was Dozier's fifth homer leading off a game this season and 12th of his career. Gray surrendered just his sixth and seventh homers of 2015. Dozier also hit No. 20 at Oakland last season.
Minnesota (50-40) holds the second-best record in the AL behind division-leading Kansas City.
Santana allowed five hits to improve to 15-6 with a 2.03 ERA in 27 starts against the A's.
"I don't know (why) but I like it," he said, grinning. "Good numbers."
He was coming off only four innings in his last outing, July 10 against Detroit, his shortest start since 3 1-3 innings on Sept. 4, 2013, while with Kansas City. Brian Duensing recorded the final four outs in the five-hit shutout.
Manager Paul Molitor chose to go with Santana starting things off after the All-Star break because he was the team's freshest pitcher — not to mention that record against Oakland.
"He stood tall and got his first win as a Twin," Molitor said.
Plouffe also singled for Minnesota, which had lost nine of 10 at the Oakland Coliseum and hasn't won a series here since a two-game set May 18-19, 2011. The Twins have lost four straight series in Oakland.
After Aaron Hicks drew a one-out walk in the second, Gray (10-4) retired 11 straight before Dozier walked to get things going in the sixth.
Gray — who won his only two previous starts against the Twins, both in 2013 — allowed five runs and five hits in six innings with four strikeouts and two walks. He was done after a 38-pitch sixth.
"It is a surprise when he gives up a home run. It really came down to two pitches where they scored all their runs," A's manager Bob Melvin said. "He threw a lot of pitches in the sixth, something he normally doesn't do."
TRAINER'S ROOM
Twins: Molitor is pleased RHP Mike Pelfrey — 0-4 in his last six starts — will have had an extended break with 12 days off by the time he pitches again Wednesday in Anaheim.
Athletics: RHP Jesse Hahn, sidelined since July 6 with a strained forearm in his pitching arm, will receive a platelet-rich plasma injection Tuesday and has been shut down indefinitely. Because he has had a previous Tommy John elbow reconstructive surgery, the A's are being especially cautious. "There's really no timetable at this point," Melvin said. ... Switch-pitcher Pat Venditte (strained right shoulder) threw a bullpen Thursday — 30 pitches from the right, 20 from the left — and is set for another Saturday. ... Melvin remains optimistic LHP Sean Doolittle (shoulder) will return sometime this season. ... OF Coco Crisp (neck) took dry swings and could resume baseball activities and batting practice over the coming week.
HUNTER TURNING 40
Twins right fielder Torii Hunter had two singles on the eve of his 40th birthday, and his mother and wife are in town to help him celebrate before the night game.
"My last game in my 30s, I'm sentimental," Hunter quipped postgame.
A's right fielder Josh Reddick reached out with an early birthday greeting when he saw Hunter on Friday.
"That's respect. They call me old goat," Hunter said. "I got drafted at 17 and I'm still playing at 40. I never thought I'd be doing that. ... Thank God for genetics."
UP NEXT
Twins: RHP Phil Hughes (8-6) makes his team-leading 19th start and 11th of his career against the A's after he beat Oakland on May 4.
Athletics: LHP Scott Kazmir (5-5), with the lowest opponents' batting average at home in the AL through the All-Star break, seeks his fourth win in seven starts.

Read more here: http://www.sacbee.com/sports/mlb/oakland-as/article27565261.html#storylink=cpy