Police: Ex-MLB player Hamilton killed in murder-suicide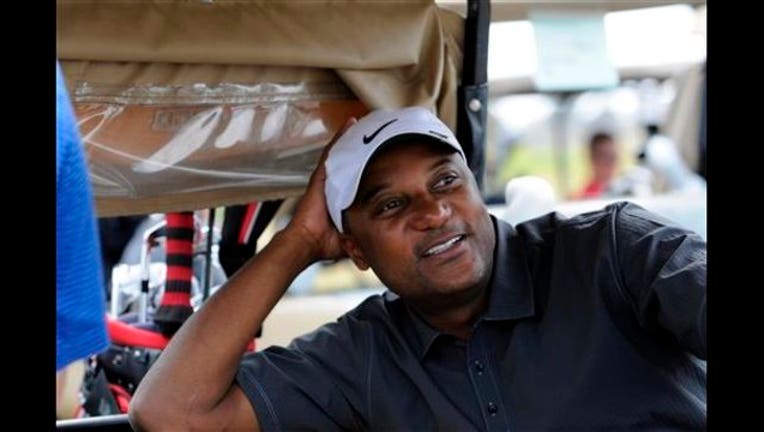 article
PEARLAND, Texas (AP) — Former Major League Baseball player Darryl Hamilton, a standout center fielder and a member of the New York Mets team that reached the 2000 World Series, was killed in a murder-suicide in a suburban Houston home, authorities said Monday.
Hamilton was found Sunday after he was fatally shot in a house in Pearland. He was 50 and had worked for the MLB Network since 2013.
An initial investigation determined Hamilton was shot several times and that a woman in the home died of a self-inflicted gunshot wound. She was identified as 44-year-old Monica Jordan, Pearland Police Lt. Patrick Savage said.
Police said the 14-month old child of Hamilton and Jordan found unharmed at the home was turned over to Child Protective Services.
Hamilton, who was born in Baton Rouge, Louisiana, played for five teams over 13 seasons in the majors before retiring in 2001. He reached the postseason in four of his final five seasons.
He had a career batting average of .291 in 1,328 games with Milwaukee (1988, 1990-95), Texas (1996), San Francisco (1997-98), Colorado (1998-99) and the Mets (1999-2001). He batted left, but threw with his right arm and had a career fielding percentage of .995 with only 14 errors in 2,770 defensive chances.
In Hamilton's only season with the Rangers, they made the playoffs for the first time in franchise history after winning the AL West title. He also went to the postseason with the Giants and two consecutive years in New York.
Hamilton later worked in operations for the commissioner's office and for baseball's digital arm, MLB Advanced Media.
"All of us at Major League Baseball are shocked and saddened by this tragedy," Commissioner Rob Manfred said in a statement. "He was a talented and personable individual, and we were proud to call him a member of the baseball family. On behalf of Major League Baseball, I extend my deepest sympathies to Darryl's family and his many friends throughout our game."
The Mets mourned the loss and said they planned to hold a moment of silence before Friday night's home game to honor both Hamilton and Nelson Doubleday Jr., their former owner who died last week at the age of 81.
The Rangers praised Hamilton as well and singled out his "memorable" year in Texas.
"He was not only an offensive catalyst and defensive standout on the field but also was a club leader and an outstanding teammate," said the team, which planned a moment of silence before Tuesday night's home game against Oakland.
Brewers general manager Doug Melvin said the team was stunned by the tragedy, "something that is impossible for us to even begin to comprehend."
"Darryl was a wonderful player for our organization, but more importantly, he was a true gentleman and a great friend to many here," said Melvin, who was with Texas during Hamilton's lone season with the Rangers.
Police responded to the home Sunday afternoon after receiving a 911 call. Hamilton's body was found near the home's main entry, while Jordan's body was located in another area of the house, Savage said. Autopsies on both were pending and Savage said the investigation was ongoing.