Posey's Grand Slam Pummels Dodgers, Giants Win 9-5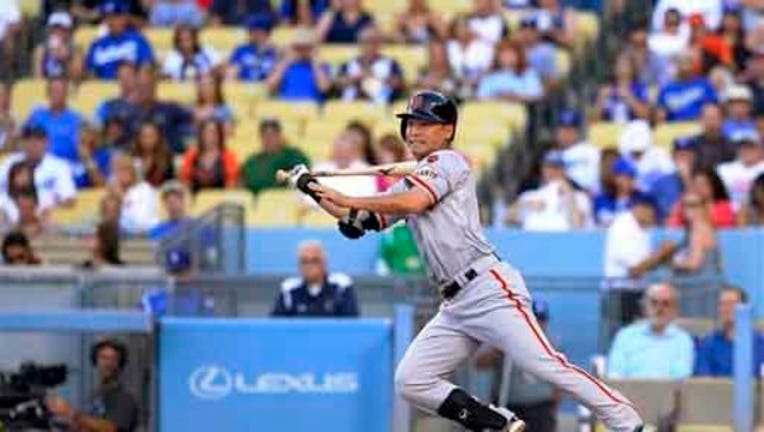 article
LOS ANGELES (AP) -- Buster Posey hit a grand slam and the San Francisco Giants got two RBIs each from Brandon Crawford and Matt Duffy in a 9-5 win over the Los Angeles Dodgers on Friday night.
The Giants' eighth victory in 10 meetings with the Dodgers this season put the defending World Series champions within 1 1/2 games of NL West-leading Los Angeles.
Chris Heston (7-5) allowed three runs, seven hits and no walks over 5 2-3 innings in his second start since his no-hitter against the New York Mets on June 9. The rookie right-hander was coming off a 4-0 home loss to Arizona on Sunday.
Mike Bolsinger (4-2) gave up a season-high five runs in 5 1-3 innings, along with eight hits and three walks. Half of the right-hander's six strikeouts came in the fourth, the only inning in which he did not allow a baserunner.
Justin Turner had two doubles and a solo homer for the Dodgers after getting grazed by an 0-2 pitch his first time up. Pinch-hitter Alberto Callaspo delivered an RBI single in the ninth against Michael Broadway, but Santiago Casilla struck Yasiel Puig with the potential tying run on deck to get his 19th save in 22 chances.
Yasmani Grandal opened the scoring in the second with an RBI single that snapped a string of 32 consecutive scoreless innings by Giants pitchers against the Dodgers -- including a three-game sweep at San Francisco last month by scores of 2-0, 4-0 and 4-0. It was the longest shutout streak by the Giants against any team since they relocated to the West Coast along with the Dodgers in 1958.
Only one other team has had a longer shutout streak against the Dodgers since then. The Pittsburgh Pirates blanked them for 33 innings between Sept. 26, 1967, and April 15, 1968.
Posey gave San Francisco a 4-1 lead in the third with his 10th homer of the season and third career slam, ending a homerless drought of 46 at-bats.
The 2012 NL MVP and league batting champion drove a 2-2 pitch into the Dodgers' bullpen in left field after singles by Gregor Blanco and Nori Aoki and a two-out walk to Angel Pagan. Blanco was reinstated from the concussion disabled list before the game after missing the previous 10.
The Dodgers closed to 4-3 in the bottom half with three consecutive hits, including Turner's RBI double and Adrian Gonzalez's run-scoring single. It was only the second time in Bolsinger's nine starts that his teammates scored more than two runs while he was in the game.
The Giants added a run in the sixth with consecutive doubles by Brandon Belt and Crawford.
Bolsinger faced one more batter after Crawford's hit, walking Duffy before Blanco lined Daniel Coulombe's first pitch to right-center. But rookie center fielder Joc Pederson robbed him of extra bases with a diving grab.
The Giants increased the margin to 9-3 in the seventh with four runs, including Josh Ravin's bases-loaded walk to Crawford, a two-run single by Duffy and an RBI single by Blanco against the rookie right-hander.