Posey's homer helps Giants to 5-4 win over Phillies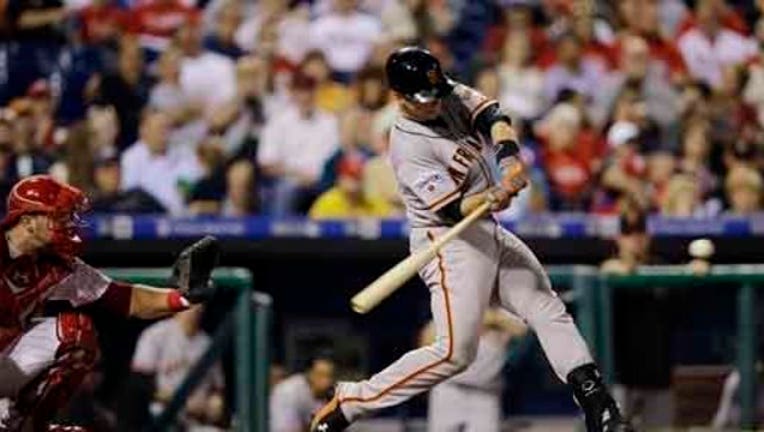 article
PHILADELPHIA (AP) — The Giants' offense gave Tim Lincecum plenty of support. The Phillies gave him some help, too.
Buster Posey hit the go-ahead home run in the seventh inning, and Matt Duffy and Justin Maxwell also homered, helping the San Francisco Giants snap a five-game skid with a 5-4 victory over the Philadelphia Phillies on Friday night.
The defending World Series champions spent Thursday's off day visiting the White House for the third time in five years. Right-hander Tim Lincecum didn't make the trip to Washington, instead flying by himself from San Francisco to Philadelphia to be fully rested for Friday's start.
Lincecum (6-3) didn't have his best stuff, but was good enough, allowing four runs on five hits in six innings, with four strikeouts and two walks.
"The guys kept me in the game," Lincecum said. "I just wanted to give the team a chance to win. The guys put together some good at-bats for me."
Joe Panik contributed two hits with a double for the Giants, who won their fourth straight on the road and 10th in the last 13 in Philadelphia. San Francisco opened a six-game road trip.
"It was a good win because we've come off a tough skid at home," manager Bruce Bochy said. "It's always good to get that first game of a road trip."
Ryan Howard and Maikel Franco homered for Philadelphia, which has lost nine of 11.
Posey snapped a 4-4 tie with his ninth homer of the season with two outs in the seventh off Luis Garcia (2-2). Posey finished 2 for 4, breaking out of a 4-for-28 slump. Clearly, Posey is very comfortable at Citizens Bank Park: he is now a .400 career hitter there.
"Just looking for a pitch I could handle and get the barrel on it," he said.
The Phillies' threat in the bottom of the frame was put out by an odd double play. With runners on first and third and one out, Jeff Francoeur flied out to shallow right. Ben Revere took off from first on the pitch and reached second base, apparently thinking the ball was going to fall in, but failed to touch second base on the way back to first. The Giants appealed the play and Revere was called out.
"Everybody was yelling, especially (pitching coach Dave Righetti)," Bochy said. "It was a good call."
Phillies manager Ryne Sandberg suggested that Revere didn't know the rule.
"He went right over the top (of the base)," Sandberg said. "I don't know that he knew he has to do that."
Revere, though, said he knew the rule and just missed the bag.
"I was trying to get my butt back to (first base)," he said. "I thought I put my foot on the bag, but it was a half-inch. That's all it takes. In that situation, I tried to get back as quick as possible. It's unfortunate."
Santiago Casilla pitched a 1-2-3 ninth for his 16th save in 19 opportunities.
Right-hander Jerome Williams started for Philadelphia and matched his shortest outing of the season, giving up four runs on nine hits in 4 1/3 innings with two strikeouts and no walks.
"Those two homers kind of hurt," he said. "It's about location, that's the main thing. I still think I can get those guys out."
Howard staked Philadelphia to a 2-0 lead in the first with a two-out drive to right field, his fifth homer in 34 at-bats against Lincecum.
Duffy, who entered 5 for his last 31, got a run back in the second with a solo shot to right. Williams' opposite-field, two-out double in the bottom of the inning gave Philadelphia a 3-1 advantage.
The Giants tied it in the fourth on Maxwell's two-out, two-run drive to left that measured 433 feet. Like Duffy, Maxwell had been 5 for 31 entering Friday. Both finished with a pair of hits.
San Francisco took a 4-3 lead in the fifth on Brandon Crawford's RBI single off Elvis Araujo. The run was charged to Williams, whose fifth-inning ERA rose to 12.66.
Franco tied it in the sixth with a solo shot to left.
DUFFY'S DIVE
Duffy dived into the stands and made a highlight-reel catch, falling halfway over the railing just past the third-base dugout, for the second out in the ninth.
"He has a great attitude," Bochy said of the third baseman. "He's handled everything we've asked of him. It's hard to keep him out."
FRANCO ON FIRE
It was the third homer in four games for Franco, who is batting .412 with seven RBIs over that stretch.
"Franco continues to show pop in his bat," Sandberg said.
TRAINER'S ROOM
Giants: OF Nori Aoki (flu) wasn't in the starting lineup, but was available to pinch-hit. Aoki entered leading the majors with a road batting average of .386. OF Hunter Pence (wrist) missed his second straight game. RHP Jean Machi (left groin) was placed on the 15-day DL, and 3B Casey McGehee was recalled from Triple-A. McGehee struck out pinch-hitting in the seventh.
Phillies: Sandberg rested healthy INF Freddy Garcia, mired in an 0-for-26 slump.
UP NEXT
Giants: LHP Madison Bumgarner (6-2, 3.12) looks to continue his success against Philadelphia when he takes the mound Saturday afternoon. Bumgarner is 2-2 with a 2.57 ERA in five careers starts against the Phillies and allowed one earned run in 15 innings over two starts last season.
Phillies: RHP Severino Gonzalez (2-1, 6.88) makes his fifth career start and first against the Giants. Gonzalez had an up-and-down outing in his last start, striking out eight and walking none but giving up two home runs and three runs in 4 1/3 innings in a 6-3 loss to the Mets on May 25.