Posey's slam lifts Giants past Padres 6-0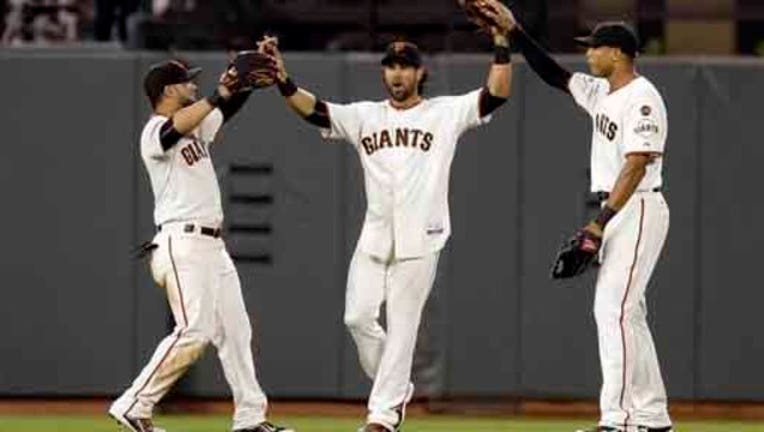 article
SAN FRANCISCO (AP) — Buster Posey hit his second grand slam in five games and the San Francisco Giants beat the San Diego Padres 6-0 on Wednesday night.
Posey hit his 11th home run of the season on a 2-2 pitch from San Diego starter Ian Kennedy (4-6) with two outs in the third inning. That came two batters after Joe Panik's sacrifice fly drove in Andrew Susac.
It's Posey's fourth career grand slam. The Giants' All-Star catcher also hit one against the Los Angeles Dodgers on June 19.
Ryan Vogelsong pitched six scoreless innings for his second straight win. Vogelsong (6-5) gave up five hits, struck out four and walked two while helping San Francisco to its majors-leading 12th shutout.
San Diego's Matt Kemp went 0 for 4 with one strikeout while batting leadoff for the first time since 2010.
Javier Lopez and George Kontos retired three batters each, while Jean Machi pitched the ninth for the Giants to complete the five-hitter.
San Francisco won at home for just the second time in its last 12 games at AT&T Park.
Kennedy retired the first six hitters before Susac reached on an error by Middlebrooks at third base. Gregor Blanco singled, and after both runners were sacrificed over, Angel Pagan walked to load the bases.
Panik followed with a sacrifice fly before Posey's home run.
Susac tripled and scored in the fourth to make it 6-0.
Vogelsong pitched out of a jam in the fourth after walking the leadoff batter and giving up a double to Justin Upton. Vogelsong got Derek Norris to strike out looking, fielded Will Venable's comebacker to catch Yonder Alonso in a rundown between third and home, then got Will Middlebrooks to ground out.
Kennedy allowed six runs — one earned — and five hits in six innings.
TRAINER'S ROOM
Padres: RHP Dale Thayer was placed on the 15-day disabled list with a strained right shoulder. RHP Nick Vincent was optioned to Triple-A El Paso. RHP Kevin Quackenbush and RHP Marcos Mateo were called up from El Paso. Both pitched in the game. ... RHP Brandon Morrow (shoulder) was transferred to the 60-day disabled list.
Giants: Leadoff hitter Nori Aoki was placed on the 15-disbled list with a small fracture in his right leg. The move is retroactive to June 21. Travis Ishikawa was called up from Triple-A Sacramento to take Aoki's roster spot. Ishikawa hit a three-run home run in the bottom of the ninth inning to win Game 5 of the NLCS for San Francisco last season. ... OF Hunter Pence (left wrist) had his brace removed.
UP NEXT
Padres: RHP James Shields (7-1) will try to bounce back after suffering his first loss in his start against Arizona on June 19. Shields has had at least five strikeouts in all but one of his 15 starts this season.
Giants: RHP Chris Heston (7-5) pitches the finale trying to win for the first time in three games against the Padres. He has an 8.00 ERA in two previous starts against San Diego