Power restored to nearly 86 percent of PG&E customers affected by outages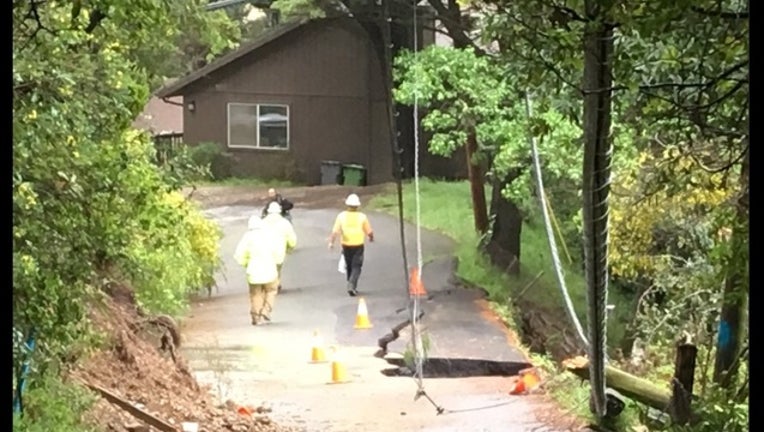 article
SAN FRANCISCO (BCN) - Power has been restored to almost 86 percent of the PG&E customers affected by outages since storms moved into the Bay Area overnight, PG&E officials said this afternoon.
   
But as of 11:15 a.m., 26,502 customers were still without power, including 18,900 in the East Bay, 4,151 in the South Bay, 2,489 in the North Bay, 958 on the Peninsula and four in San Francisco.
   
Rain and high winds, including hurricane-force gusts in some areas, lashed the region overnight, bringing down trees and power lines.
   
The storm that blew through the region Thursday afternoon and early this morning generated wind gusts as high as 83 mph in Los Gatos, 76 mph on Mount Diablo, 54 mph in San Jose and 62 mph in Oakland, according to National Weather Service meteorologist Anne Schneider.
   
Rain totals ranged from 0.25 inches in many areas to 4.5 inches near Guerneville in Sonoma County, Schneider said.
   
The storm, downed trees and mudslides have kept PG&E crews busy overnight and throughout the morning today, having knocked out power to 180,000 Bay Area customers.
   
Crews restored power to about 144,000 customers by 10:30 a.m., said PG&E spokeswoman Lynsey Paulo.
   
"We definitely are experiencing very high winds," Paulo said. "The ground has been saturated for some time now with all the rain and storms we've been experiencing over the last couple of months, and that tends to weaken trees so we've had a lot of tree-caused outages."
   
Paulo said people should be extremely cautious of downed tree limbs and power lines and should call PG&E immediately if they run across fallen poles or lines.
   
"Our crews will be out in force until we get all the power restored," Paulo said. "We expect almost all (customers) to have power back by the end of the day."
   
A new, less powerful storm is expected to hit the region today and last until Saturday afternoon.
   
Winds are forecast to die down considerably and rain totals will range from between roughly a half-inch in the North Bay to about one-third of an inch in the South Bay.