Praise for late Sen. Dianne Feinstein pours in
SAN FRANCISCO - California Sen. Dianne Feinstein's sudden passing Thursday night came as a bit of a surprise when it was announced Friday morning. 
Even though the late senator had mounting health concerns, Feinstein worked right up to the end: voting to pass a short-term spending bill that would have avoided a looming government shutdown.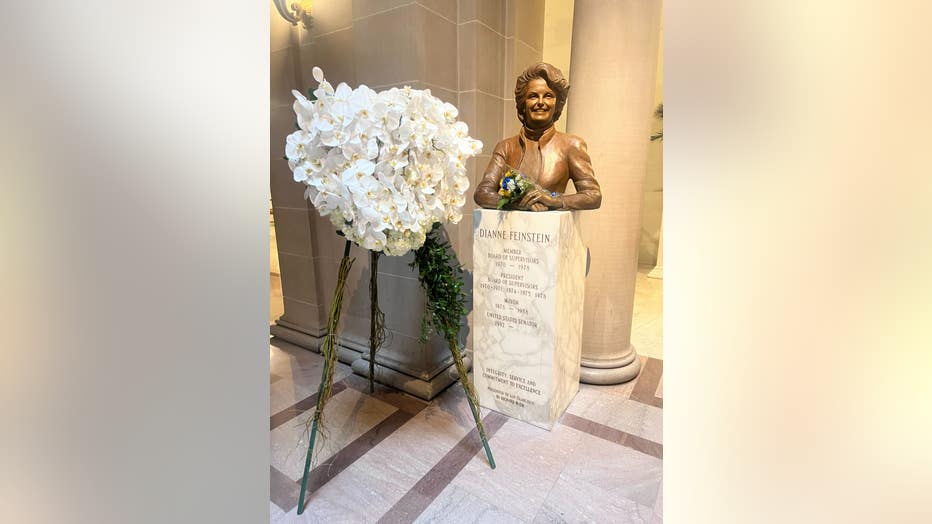 A bust in San Francisco City Hall commemorating the career of Dianne Feinstein had flowers placed near it after her passing on September 29, 2023. | Photo by Alice Wertz
Flags were lowered to half-staff at the White House and San Francisco City Hall as condolences and praise for Feinstein's long and storied career spread across social media. 
Public figures ranging from celebrities to elected officials from both sides of the aisles posted on social media about her death and reflected on her career in public life:
President Joe Biden called Feinstein a "pioneering American, "a true trailblazer," and a "cherished friend."
Rep. Nancy Pelosi said she was "heartbroken." 
Former President Barack Obama called Feinstein a "fierce advocate for gun safety" and a "trusted partner."
California Sen. Alex Padilla teared up during a press conference early Friday when he was asked about Feinstein's contributions. He called her "a champion, an icon, and most importantly, a friend."
Gov. Gavin Newsom considered Feinstein a mentor and said she was a "political giant" who fought for her city, state and country.
Former California Gov. Jerry Brown appreciated Feinstein's "intensity, devotion to duty and unfailing solicitude for her friends."
Former California governor and international movie star Arnold Schwarzenegger also posted his praise of the late senator.
As did Schwarzenegger's former wife and television reporter Maria Shriver.
Local officials across the Bay Area took to social media to share stories and their condolences as well. 
State Sen. Scott Wiener said Feinstein helped lead San Francisco and the nation through the HIV/AIDS epidemic, an act that many Bay Area residents never forgot.
San Francisco Mayor London Breed said Feinstein "bravely led us out of dark, difficult times, lifting the spirits and hopes of many who felt lost in the wake of tragedy."
Oakland Mayor Sheng Thao praised Feinstein's legacy on gun control.
Feinstein's work on gun control is something that inspires Rep. Maxwell Frost (D- Florida), the House's youngest representative and first Gen Zer to serve in Congress.
Feinstein's Senate colleagues also weighed in. Senate Majority Leader Chuck Schumer said Feinstein "changed the Senate and America for the better."
Vermont Sen. Bernie Sanders said Feinstein was a "woman of great courage."
Massachusetts Sen. Elizabeth Warren said Feinstein "broke barriers and fought for the American people."
Feinstein also received praise from one of her Senate rivals, Minority Leader Mitch McConnell (R-Ky.), saying Feinstein was a "true friend."
Feinstein announced earlier this year that she planned to retire at the end of her term. The three front-runners in the California Senate race all posted their remembrance of the late senator.
Rep. Barbara Lee said Feinstein's passing marked "a sad day for California and the nation."
Rep. Adam Schiff said "the nation has truly lost a giant of the U.S. Senate."
Rep. Katie Porter called Feinstein a "trailblazer for women in California politics."
Sarah Kate Ellis, president and CEO of GLAAD, a pro-LGBTQ rights organization, said she was "grateful" for Feinstein's service. 
NFL-great and former 49er Joe Montana also sent condolences to Feinstein's family.
Former California Sen. Barbara Boxer shared some of her fondest memories of Sen. Feinstein and how they worked in tandem.
One of Boxer's fondest memories of Feinstein was "the way we worked when we got elected the first time. Nothing like that first time. And the fact that she knew it could hurt her campaign by joining hands with me because I was not, you know, again, that state California 1992 was quite purple, and maybe even leaning red at that time. And yet she held my hand, so I won't ever forget that. To me, it's a lasting memory."