Precita Eyes highlights SF Mission's long-standing legacy as a mural destination
SAN FRANCISCO - San Francisco's Mission District is home to hundreds of outdoor murals making it a global destination for this art form. 
We spoke with Patricia Rose, a muralist and tour guide from Precita Eyes Mural Arts and Visitors Center. She says she moved here during 1967's 'Summer of Love' and never left. 
The organization has been sharing the community's legacy of mural art through their educational tours since the group was founded by Susan Cervantes in 1977. To this day, Cervantes offers a regular 'History Mural Tour' with the group.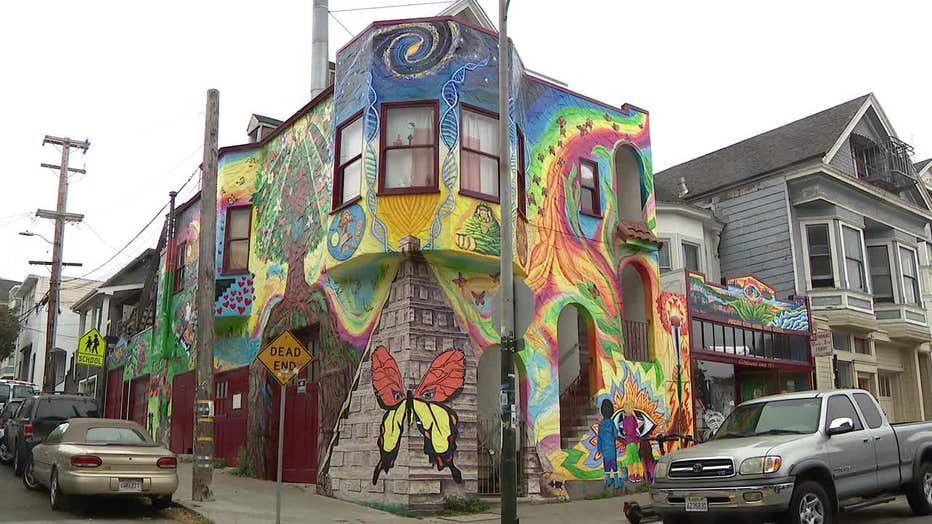 Precita Eyes building mural in San Franciscos Mission District. 
"We have the densest concentration of murals anywhere in the United States," Rose says. She says Precita Eyes is composed of educators. "We are very focused on showing other people how to create murals themselves with the hope that there would be even more murals everywhere we look." 
Speaking of the distinctly-painted building that houses Precita Eyes' studio, Rose says between two interconnected properties, that it's partly residential. "The mural across the street is just a wonderful story of community support for Precita Eyes," Rose says about the building. "As far as what it represents, it represents our community, it represents Precita Park and things that happen here in Precita Park, but also the people that live here." 
Precita Eyes building mural in San Francisco's Mission District. 
She speaks of the vibrant colors incorporated in the murals and explains some of the symbolism. 
"The butterflies on the Precita Avenue wall are monarchs, which are a powerful symbol of immigration and we have many immigrant neighbors in this community showing that welcome and solidarity with our immigrant neighbors."
She says part of Precita Eyes' mission is to share the beautiful mural legacy with visitors and locals alike. She says the murals are a beautiful art form, something the neighborhood celebrates and that the walls are speaking to the community. 
"There are a lot of themes that are very contemporary or current through whatever is happening in our lives at a certain point." 
Clarion Alley murals in San Francisco's Mission District. 
Stream KTVU on your TV by downloading Fox Local on your Roku, Amazon Fire, AndroidTV or AppleTV device for free. More details here.
Balmy Alley is a great example of how those themes are represented. Bordered by 24th, 25th, Harrison streets and Treat Ave., this alley is considered the most concentrated collection of murals in San Francisco.
According to Balmyalley.org, the murals began in the mid-'80s. The works express artists' outrages and political abuses in Central America. Rose backs this up. Most of the tours she gives go through Balmy Alley. She tries to highlight some of these murals specifically, but at least gives a cursory talk on her tours. 
"A number of older murals in Balmy Alley were painted in response to civil wars in Central America so that was a unifying theme. In more recent times…immigration. That's kind of a big concern in the heart of the Mission. Because of a large immigrant population, gentrification is a big issue now as well. Not just the gentrification of the community, but that's resulted in a lot of displacement of long-term residents as a big concern. That's been showing up in recent murals." 
Balmy Alley mural in San Francisco's Mission District. 
One of the Mission's significant murals isn't outdoors at all. 
"Here's a little known fact for you. The oldest mural in the Mission is over 200 years old. That is the ceiling of Mission Dolores. That was painted by Ohlone people who populated this neighborhood at that time." The Ohlone people occupied the area for thousands of years. 
She describes the beauty of the geometric shapes and the soft earth tones of the ceiling mural. 
"It's indoors. There was no acrylic paint in the 1700s. For a mural to last that long it would have to be in a protected space," she says. 
Reflecting on recent years, Rose notes how new murals proliferated during the COVID-19 pandemic. There was plenty of canvas available with boarded up storefronts. But the city persisted and has moved on from that period. 
Mural inside Bank of America at 23rd & Mission streets in San Francisco's Mission District. 
"I do think San Francisco is more beautiful now than it's ever been. We kind of laugh about this when we hear those dreadful stories about our city because if that's making people leave San Francisco, cool. We could use the parking spaces," she jokes. 
But the preservation of the murals in the community is also important to this organization. She explains why, "The stories that our murals contain are the lore of our community. I sometimes describe them as illustrated pages of the journal of our community. They tell our stories. As long as our stories are being told, we're still visible."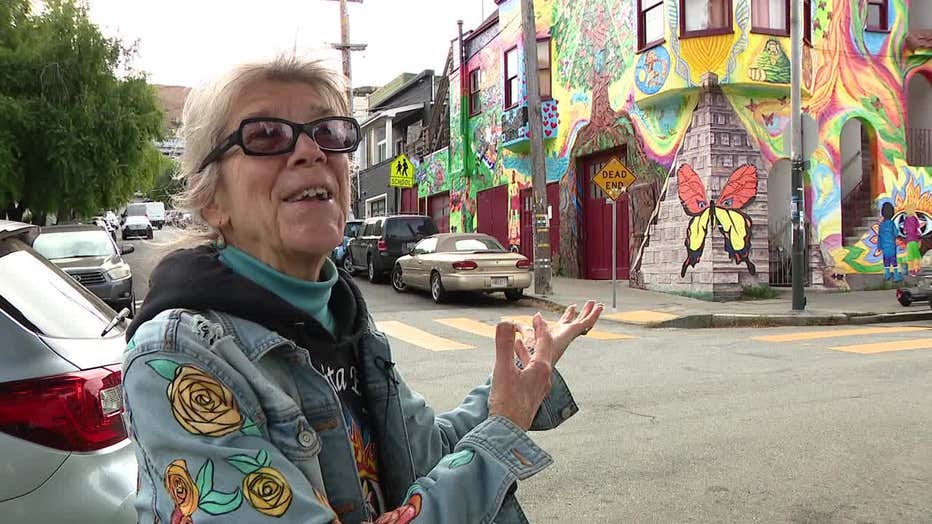 Patricia Rose, Precita Eyes tour guide in San Franciscos Mission District.