Pregnant Door Dasher can't make delivery after car wreck, Sterling Heights PD finish the job
Wednesday afternoon, with snow and rain spitting down across Metro Detroit, a pregnant Door Dasher was in a tough spot. She had just been in a car crash that made her Ford Fusion undriveable – and the Sterling Heights Police Officers who responded were eager to finish the job.
Bryanna Fantozzi is 6 months pregnant and had a car full of groceries along with a DoorDash order when she was in a serious wreck on Metropolitan Parkway near Dodge Park Road. Her Fusion and the other car were both severely damaged and could no longer be driven. Fantozzi had nowhere else to turn except to the officers who responded to the crash.
"I have a question, because I have DoorDash stuff in my car, is there anyway that you guys could deliver that for me?" she asked, while pointing out how close the delivery location was. 
She asked Sterling Heights Police Lieutenant David Allen and the other officer, identified only as officer Smith, to help out. They didn't hesitate.
"Yeah, I'll take it for you," Lt. Allen said while chuckling. "Hopefully they give you a good review." 
VIDEO: Sterling Heights Police stop pharmacy break-in in progress, chase down suspect
Lt. Allen and officer Smith took the food to their cruiser and then drove to a Sterling Heights home to deliver the DoorDash order for Bryanna. The officers took multiple bags of groceries, a bottle of juice, lemonade, and an order from Texas Roadhouse.
"That's a Texas Roadhouse receipt. I know a Texas Roadhouse receipt when I see one," Allen said.
The DoorDash customer, identified as Genna Pizzo, met the officers outside and was herself in a tight spot with four sick kids at home that day. Lt. Allen did give Pizzo two warnings: one, he wasn't responsible if it's inaccurate and two…
"If that's Texas Roadhouse you're lucky if the rolls made it. I'm on a diet right now and that would have been questionable," he said.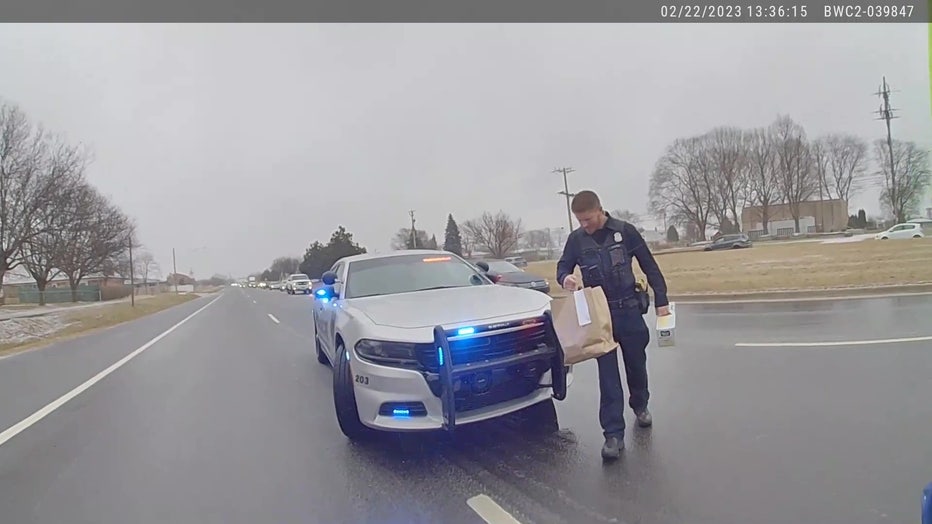 Two Sterling Heights Police officers finished the job for a DoorDash driver after she was in a serious crash and couldn't complete her delivery.