Prospect High School student wins poster contest depicting need for gun reform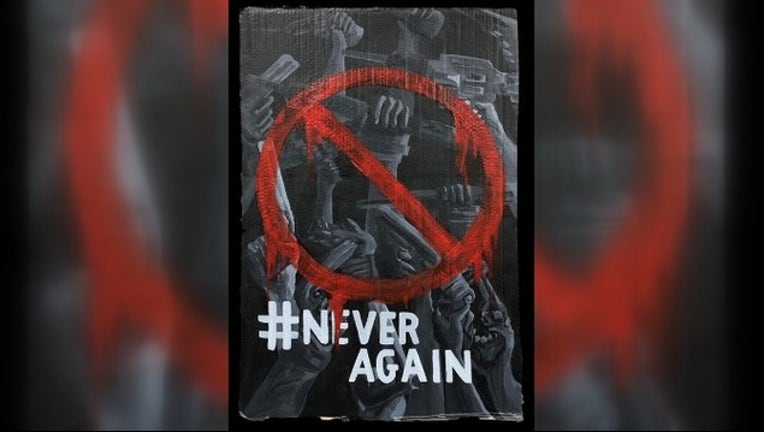 article
(BCN) - A Prospect High School student will be awarded first place in a Santa Clara County poster contest for depiction of a need for gun reform in the aftermath of a 2018 high school shooting in Parkland, Florida.
Aileen Ra's acrylic painting shows hands clenching guns paired with the slogan .NEVERAGAIN. The theme of the contest was "Post-Parkland: Students Speak Out Against School Shootings," and Ra's poster will be used in a county campaign to recover illegal guns.
Though the violence at Marjory Stoneman Douglas High School seemed distant for Ra in February 2018, local marches and discussions spurred her into thinking deeply about the issue of gun violence.
"Now, I believe students should take this chance as an opportunity to make change for our future," stated Ra, who hopes to be an illustrator after graduating. "We have a reason to stop this act from occurring again, and we should continue to speak out until the peace is made."
The annual "Justice for All" contest is open to all high schools in the county, and in past years has tackled issues of prejudice and virtual bullying. 
District Attorney Jeff Rosen will present the $1,500 award to Ra and the second and third place winners at noon Monday in the District Attorney's Office at 70 W. Hedding St. 
Maia Nantais of Gilroy's Christopher High School won $1,000 for second place and Emily Tran, of San Jose's Evergreen Valley High School, won $500 for third place.
"Children should be seen - and heard." Rosen said in a news release. "Young people across the country are speaking out against gun violence. The DA's Office is listening."