Protesters mark anniversary of Luis Gongora's death by SFPD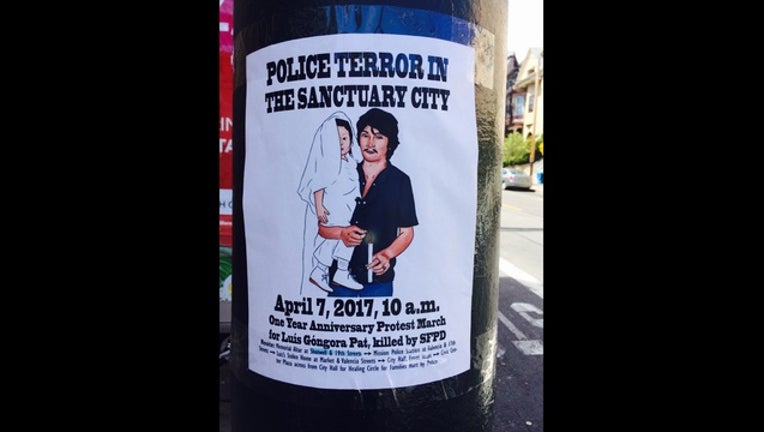 article
SAN FRANCISCO (BCN)-- To mark the one-year anniversary since an allegedly knife-wielding
homeless man was shot and killed by San Francisco police officers, activist held a march from the site of his death in the city's Mission District to City Hall this morning.
Luis Gongora Pat, 45, was shot and killed moments after police arrived near the intersection of 19th and Shotwell streets on April 7, 2016.
He later died in San Francisco General Hospital.
Protesters gathered today at about 10 a.m. -- the same time Gongora was shot -- and marched to City Hall, stopping along the way at the Mission District police station and a building where Gongora lived before he
became homeless.
They carried signs adorned with other people shot by San Francisco police, such as Alex Nieto, and some danced in costumes.
Gongora was an indigenous Mayan man who had emigrated to the U.S.from the Mexican state of Yucatan more than a decade ago and spoke little English or Spanish. He had become homeless and was living at an encampment near where he was killed.
Homeless outreach workers there had called police after allegedly seeing Gongora swinging a large kitchen knife, according to police. The officers found him seated on the sidewalk with the knife in his hand.
After ordering him in both English and Spanish to put the knife down, they fired beanbag rounds at him, but police said he then stood up and ran at the officers with the knife in his hand. Sgt. Nate Steger and Officer
Michael Mellone both shot him.
A lawsuit filed by the family contends that Gongora never got up and the officers shot him while he was still seated on the sidewalk, never giving him a chance to comply.
In addition to the police, a frequent target of criticism by the activists has been District Attorney George Gascon, who has been a strong advocate for police reforms but slow to make decisions in officer-involved shootings.
Gongora's cousin, Luís Poot Pat, had strong words for Gascon as he stood outside the Mission police station today.
"If you cannot do your job, resign," he said to Gascon.
"I would not wish this tragedy on anyone," he said, remembering the days when he first learned Gongora had died. "Unfortunately in those days, the most difficult of my life, I became aware of all the other people
killed by the police."
Of 12 fatal shootings by San Francisco police officers in the last three years, Gascon has only made a decision about whether to charge the officers in Nieto's case, when he cleared the four involved officers on Feb.12, 2015. He has not reached a charging decision in a fatal officer-involved shooting in more than two years.