Raiders hire Ken Norton Jr. as defensive coordinator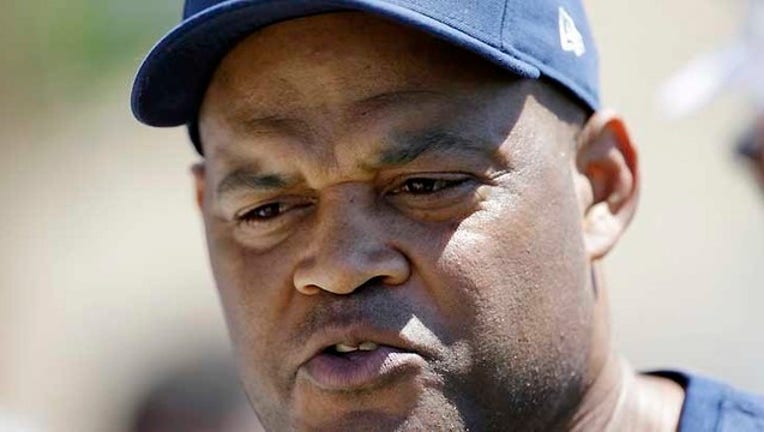 article
ALAMEDA, Calif. (AP) -- The Oakland Raiders hired Seattle linebackers coach Ken Norton Jr. on Friday as defensive coordinator on new coach Jack Del Rio's staff.
Del Rio tabbed Norton, his former teammate for two years with the Dallas Cowboys, five days after the Seahawks lost the Super Bowl to New England.
The Raiders had previously been turned down by Louisville defensive coordinator Todd Grantham, who decided to stay in the college ranks. Del Rio then waited until after the Super Bowl to make the hire.
Norton interviewed with the Raiders on Monday, the day after the Super Bowl, and the deal was quickly finalized to bring him to Oakland.
"We're old teammates from the early Dallas Cowboys days and we've certainly kept in contact over the years," Norton said. "I've been watching his career and obviously he's been watching my career. We've always talked about being able to put my time and energy and knowledge together as well as his and really come together and make a winner."
While Norton has never been a defensive coordinator in the NFL, Del Rio has extensive experience running successful defenses and will have a heavy hand in designing the defense in Oakland.
Norton said the defense will be a collaborative effort but the plan is for him to call the plays on game days.
"I have certain ideas that I have that I know that work," Norton said. "He has certain ideas that he has that he knows that work. We're going to bring them together and obviously make them the Raider way."
Norton played 13 years in the NFL with the Dallas Cowboys and San Francisco 49ers, winning three Super Bowl titles as a linebacker on those teams. Norton is the only player in NFL history to win three straight Super Bowl titles, playing on championship teams in Dallas in 1992 and 1993 before winning it all again the following season with the 49ers.
Norton began his coaching career at Southern California in 2004 as linebackers coach. Norton spent six years with the Trojans before following Pete Carroll to Seattle.
Norton has been linebackers coach for the Seahawks for five seasons, helping them win the Super Bowl last season and make it back this year. The Seahawks have led the league in scoring defense and total defense the past two seasons.
"We've had a lot of success," Norton said. "You watch our defenses over the last few years, how physical, how smart, how dominant they've been up front, outhitting, outhustling and doing all these aggressive things."
Norton was still under contract in Seattle but Carroll allowed him to leave for a promotion.
Norton helped tutor Malcolm Smith, who won the Super Bowl MVP in 2014, and Bobby Wagner, who has become one of the top linebackers in the league after being drafted in the second round in 2012.
Norton also worked with players like Clay Matthews, Brian Cushing, Rey Maualuga, Lofa Tatupu and Keith Rivers at USC and is looking forward to the opportunity to coach Khalil Mack.
Mack was one of the shining stars on the Raiders last season when they went 3-13. The fifth overall pick in the 2014 draft was one of the top outside linebackers against the run and was a strong pass rusher as well.
Norton said he had his linebackers in Seattle watch Mack to see how they could improve their game.
"Just watched his explosion, his speed, his combination of size and his strength," Norton said. "He's a really smart player and he loves playing ball. I've done really well with young men who have a knack of making plays and really love playing football."