Raiders release Aldon Smith after latest domestic violence incident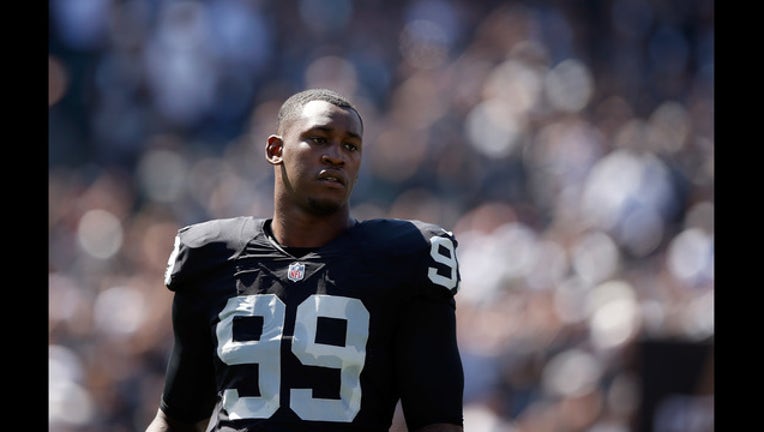 article
SAN FRANCISCO - The Oakland Raiders released linebacker Aldon Smith after his most recent domestic violence incident, the Raiders announced Monday. 
Police were searching for Smith, who authorities said Sunday is suspected of domestic violence.
Someone called 911 to report a domestic violence incident at about 8:30 p.m. Saturday, a San Francisco police spokesman said.  A dispatch call by police states that the "suspect threw her around the room, bit her on the wrist and climbed out the window."
Sgt. Michael Andraychak said the victim's injuries were not life-threatening. Andraychak said investigators are asking for the public's help finding him. He fled before police arrived.
Neighbor Terri Graham told KTVU that she saw what appeared to be Smith's fiancee loaded into a police cruiser and that Smith possibly escaped down a fire escape.
The troubled linebacker has been arrested several times on charges of drunken driving, vandalism and illegal possession of assault rifles among other charges since the San Francisco 49ers drafted him in 2011 in the first round. The 49ers released him 2015 after he was arrested and charged with his third drunken driving in four years.
The Raiders signed him in 2015 and he played nine games for them until the NFL suspended him for substance abuse violations. The 28-year-old's application to the NFL commissioner for reinstatement was initially denied in 2016 and is still pending.
Investigators from the SFPD Special Victims unit are attempting to speak with Smith and have asked that he call the SFPD 24 hour operations center at (415) 575-4444. 
KTVU's Christien Kafton and the Associated Press contributed to this report.