Rally organized for transgender woman allegedly called 'freak' by SF city employee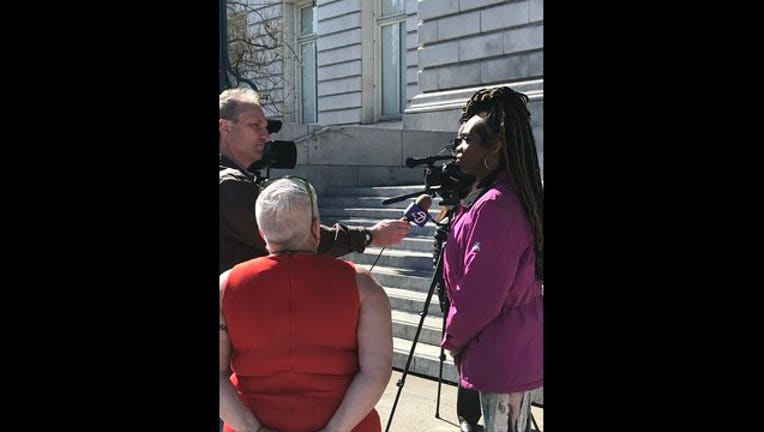 article
SAN FRANCISCO (BCN) About 40 people rallied this morning outside San Francisco City Hall to support a transgender woman who was allegedly called a "f---ing freak" and a "f---ing man" by a city employee in 2016 when she tried to use a public woman's restroom, the woman said today.
Tenesh Nutall said she was pleased that people came out at about 11:30 a.m. to support her and a lawsuit filed against the city on her behalf.
"I think it went well," Nutall said about the rally.
The lawsuit alleges that an employee of the Office of Citizen Complaints told Nutall on Feb. 18, 2016, that she could not use a women's restroom and was a "freak." The employee, Mary Ivas, was a civilian 
investigator for the office, according to the lawsuit.
At the time, Nutall was the TransLife program manager for the San Francisco AIDS Foundation. She was attending a training program sponsored by the San Francisco Public Health Department and held in the building used by the Office of Citizen Complaints.
The name of the Office of Citizen Complaints was changed later in 2016 to the Police Accountability Department. The lawsuit names the department as well as the city as defendants and was filed last week by the California Department of Fair Employment and Housing.
In 2016, the Oakland-based Transgender Law Center assisted Nutall with an initial complaint to the San Francisco Human Rights Commission.
The complaint said the incident caused Nutall severe emotional and physical pain and a nervous breakdown and resulted in her losing her job and her home.
In a statement, Nutall said that when she moved to San Francisco, she felt that she had finally found "a place where for the first time I could be safe as myself."
"So I was devastated and crushed when a representative of my new city stopped me from using the bathroom and called me a freak," Nutall said.
The lawsuit alleges violation of state civil rights laws. It asks for financial compensation for Nutall and a court order requiring the Police Accountability Department to provide a two-hour training annually for three years for all employees on how to avoid harassment and discrimination based on gender identity.
City Attorney's Office spokesman John Cote said, "San Francisco respects the rights of all individuals, and the department here apologized to Ms. Nutall after the incident. They also provided additional training to the employee in question, but it's our understanding that the factual allegations in the complaint are not entirely accurate and the former employee did not violate Ms. Nutall's protected rights."