Redwood City car wash uses just one cup of water on cars amid ongoing drought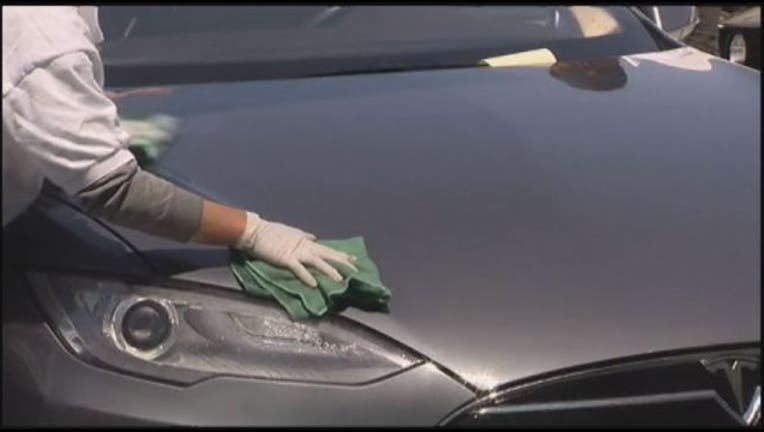 article
REDWOOD CITY, Calif. (KTVU) -A car wash in Redwood City cleans cars using just one cup of water - that's right, one cup.
At Eco Green Auto Clean on El Camino Real, you don't see any hoses, faucets or large equipment. It's just spray and wipe.
Sharon Maluth of Hillsborough takes her Tesla to Eco Green whenever it gets a little grimy. "This is my prized possession besides my kids and my husband. So I take really good care of it," she said.
Eco Clean has found a way to wash cars in a drought. Anton Van Happen started the company about two years ago using a spray solution with what he says are all natural ingredients.
He's keeping the formula a secret. But here's how he says it works. "When you spray the formula on the car it breaks the dirt particles away from the paint on the car. So with a micro-fiber towel you are lifting off loose dirt," he explained.
Then it is dried off with another towel. The only water used is what's mixed in the cleaning solution.
"When you leave a car wash and roll your windows down and then back up they're all wet and streaky. You don't have that problem here," said Van Happen.
The cost to clean most cars is $25 for the exterior, $35 if you include the interior.
Customers say they like the fact the process conserves water. So has the drought been good to eco green? "For our company yeah. For the environment, no. But for us it's going well, yeah," said Van Happen.
The car wash also sells its cleaning solution by the bottle, for those who want to wash their cars themselves.