Relative: Marathon bomber followed older brother's lead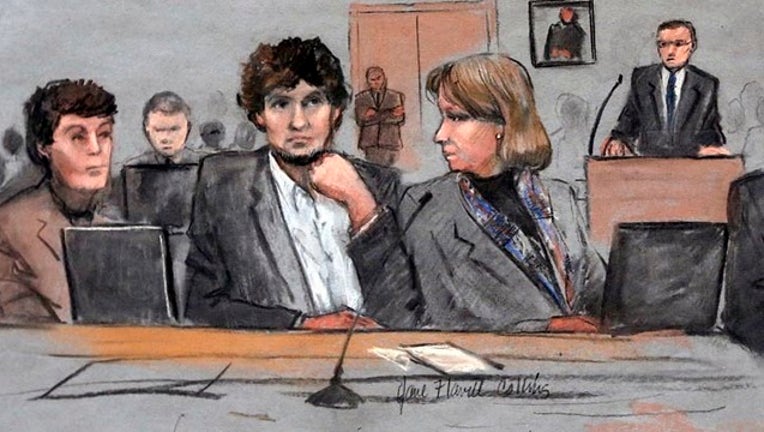 article
BOSTON (KTVU-AP) — A former brother-in-law of Boston Marathon bomber Dzhokhar Tsarnaev says Tsarnaev was close to his brother and followed his older sibling's lead.
Elmirza Khozhugov, the former husband of Tsarnaev's sister Ailina, also testified in the sentencing phase of the trial about a conservative Muslim convert who steered Tsarnaev's older brother toward a stricter version of Islam.
Defense lawyers are trying to show that Tsarnaev was heavily influenced by his radicalized 26-year-old brother, Tamerlan, whom they call the mastermind of the plot. Tamerlan Tsarnaev was killed days after the bombing during a getaway attempt.
Khozhugov testified for the defense Wednesday by live video from Almaty, Kazakhstan.
Defense lawyers could rest their case as early as Thursday. They have not said if Tsarnaev will take the stand.
A federal jury will decide whether Tsarnaev should be executed or sentenced to life in prison for the 2013 bombings that killed three people and wounded more than 260.
Khozhugov told jurors Wednesday that a Muslim convert named Misha often visited the Tsarnaev apartment in Cambridge, Massachusetts, to talk to Tamerlan Tsarnaev about Islam.
"I wouldn't call it formally a lesson, but he was teaching him and suggesting books to read ... expressing his own views about that faith to Tamerlan," Khozhugov said.
He said Tamerlan Tsarnaev told him he quit boxing, stopped taking acting classes, and stopped playing and listening to music after Misha said those things were not appropriate in Islam.
Khozhugov also described the close-knit relationship between the brothers.
"He listened to Tamerlan. He went along any time Tamerlan would say, 'Let's go do this and that,'" Khozhugov said.
The Tsarnaev family — ethnic Chechens — lived in the Dagestan region of Russia and in the former Soviet republic of Kyrgyzstan before moving to the United States when Dzhokhar was 8.
Tsarnaev's lawyers told the jury that the oldest brother in Chechen families traditionally takes on the role of decision-maker if the father is incapacitated. A psychiatrist testified Tuesday that he diagnosed Anzor Tsarnaev, the brothers' father, with post-traumatic stress disorder in 2003 and that he also suffered from a variety of physical ailments.
"There is a saying we have in Chechnya. ... 'In a family with seven sons, it is better to be a dog than the younger son,'" Khozhugov said.
The defense also tried to diffuse an image of Tsarnaev giving the middle finger to a camera in his holding cell the day he was arraigned in the bombing. Prosecutors showed a still photo of the image, saying it showed he was unrepentant about the bombings. Tsarnaev's lawyers have said it was simply an immature gesture.
Deputy U.S. Marshal Kevin Roche testified Tsarnaev apologized when he and his supervisor went to talk to him afterward.
"We asked if he was going to continue to be a problem. He said, 'No, I'm done. I'm sorry,'" Roche said.