Remembering Lon Simmons: Legendary Bay Area sports broadcaster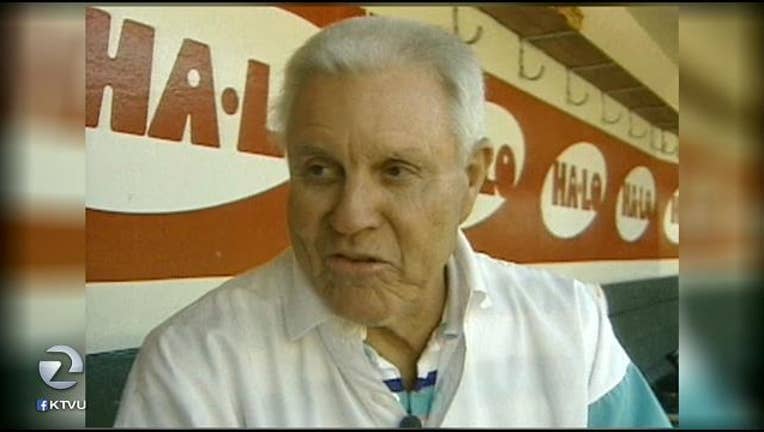 article
SAN FRANCISCO (KTVU) - Veteran Bay Area sports broadcaster, Lon Simmons, died Sunday morning at the age of 91.
Simmons had many notable moments in his career. He broadcast the first game the Giants ever played in San Francisco in 1958, the final out as the Oakland A's beat the Giants in the 1989 World Series, and the 49ers winning Super Bowl XXIII.
"There are a lot of baseball guys who would not be able to do football," said former 49er broadcaster, Joe Starkey. Starkey worked with Simmons in 1987 and 1988. Starkey said he'll miss Simmons sense of humor most. "He could, at any time, come up with a line that would just crack you up; and that was on or off the field," Starkey remembered. "He was just that kind of person."
Simmons was the voice of Giants baseball for five decades. "Lon Simmons was my idol," said Giants broadcaster, Jon Miller, who described what it was like to work next to his idol. "I was so intimidated by Lon...he'd say, 'hi Jon, how are you'" Miller said mimicking Simmons booming baritone voice. "And I'd say, 'I'm good'", Miller said mocking himself in a high pitched voice.
On Twitter, Simmons trademark home run call sparked the hash tag #TellItGoodbye. Fans and colleagues are remembering the Hall of Fame broadcaster fondly. Former San Francisco Giants broadcaster, Hank Greenwald said, "People always remember their first Major League broadcaster, and for a great many people, Lon Simmons was their first." Giants President and CEO, Larry Baer said, "Hearing his broadcasts ignited my and thousands of others' passion for Giants baseball. He will be deeply missed by all of us."
"I still think he has the best baseball voice I've ever heard," Starkey remarked. He said Simmons had it all: the voice, skill, timing, and a sense of humor. "I remember one game the Giants were getting clobbered; eight, ten runs behind, and he said 'where do we go to surrender?' Things like that," said Starkey. "I thought he was the perfect package for a Major League broadcaster."