Report: Greyhound bus driver fatigued, not drunk in deadly San Jose crash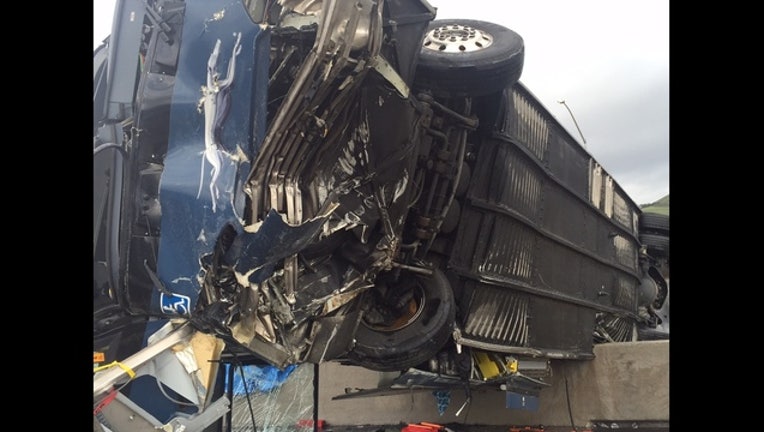 SAN JOSE, Calif. (BCN) - A preliminary report released Thursday by the National Transportation Safety Board on a fatal Greyhound bus crash on U.S. Highway 101 in South San Jose last month showed no initial signs of mechanical issues or intoxication on the part of the driver.
The Jan. 19 crash killed two women who were ejected from the bus and injured 13 others, including the driver. The federal agency is still determining a probable cause for the accident.
The passengers who died were 51-year-old San Francisco resident Fely Olivera and 76-year-old Maria De Jesus Ortiz Velasquez of Salinas, according to the Santa Clara County medical examiner's office.
A 58-year-old man was operating the bus, which carried 20 passengers on northbound Highway 101 at about 6:40 a.m., NTSB officials said.
The bus had left Los Angeles at 11:53 p.m. the day before with scheduled stops in San Jose and San Francisco before ending the trip in Oakland.
He drove through an area separating a high occupancy vehicle lane on the left to northbound state Highway 85 from four northbound Highway 101 lanes, according to the NTSB.
The bus rolled over counterclockwise before it landed on its right side over a concrete barrier, according to the NTSB.
The rear of the bus was on northbound Highway 101 lanes and the front hung over the HOV lane. The vehicle had traveled 65 feet before it came to rest on the barrier, NTSB officials said.
The report said the bus had lap and shoulder seat belts for all 50 passenger seats. Two of the passengers who were not injured reported they wore seat belts, according to the NTSB.
It was still dark at the time of the early morning crash, with light to heavy rain and south-southeast winds reportedly ranging from 11 to 23 mph, according to the NTSB.
An initial inspection of the bus, a 2014 Motor Coach Industries D4505 motor coach, showed no mechanical defects and preliminary toxicology results on the driver were negative for alcohol or drugs, NTSB officials said.
The driver had told investigators that he drank coffee because he felt fatigued during a stop in Gilroy, according to the CHP. Witnesses reported the bus was traveling at the speed limit prior to the crash, CHP officials said.