Ribbon-cutting ceremony unveils upgrades at Balboa BART station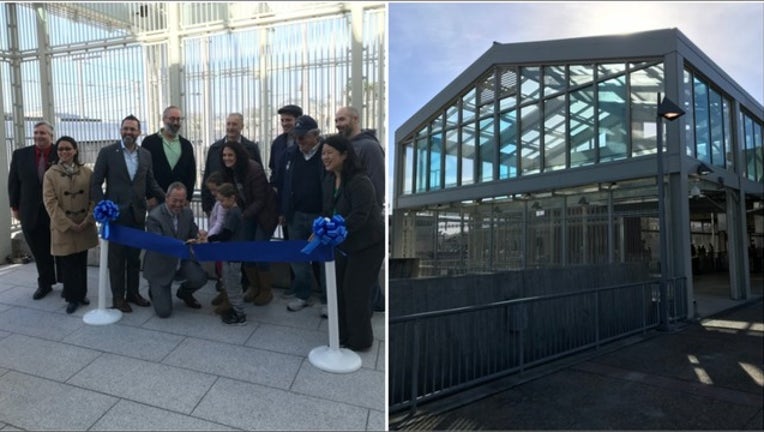 article
SAN FRANCISCO (BCN) - San Francisco's Balboa Park BART station has gotten an $18.7 million makeover featuring new and improved safety features, BART officials announced Friday.
This morning, transit officials held a ribbon-cutting ceremony to celebrate the completion of the Eastside Connection Project at the station, located at 401 Geneva Ave., after a year and a half of construction.
In addition to BART riders, the stations also serve as a light rail terminal, streetcar depot and bus terminal for several San Francisco Municipal Transportation Agency lines.
According to BART officials, the station serves about 25,000 people daily, making it one of the Bay Area's heaviest used transit hubs.
Improvements include the construction of a new Muni boarding platform on the east side of the station. Before the platform's construction, Muni riders had to wait on a narrow strip of pavement just inches away from moving light rail cars.
Additionally, a new pedestrian bridge over the BART tracks connects the east and west sides of the station.
Other new features include a covered head house, new lights, news signs, real-time displays of wait times and a mid-station entrance.
"This project provides convenient connections between BART and Muni for riders traveling to San Francisco City College, to the high school (Lick Wilmerding), Balboa Park or continuing down the peninsula or to destinations to the north," Siew-Chin Yeong, SFMTA director of capital programs & construction, said in a statement.
In a statement, BART Board of Director Bevan Dufty said, "None of this would have happened without the true partnership between BART and the SFMTA. We are literally on top of each other at this location bordered by busy, steep city streets and a freeway. Our agencies were able to work through a number of scheduling, planning and engineering challenges to bring so much more than a facelift to the station, but a transformation that has made it more accessible, safe and convenient."
In addition to the safety features, a new Tony Sacco Memorial Wall was unveiled at today's event, honoring the late San Francisco firefighter and community advocate.