Rick Hoyt, who became a Boston Marathon fixture with father pushing wheelchair, dies at 61
BOSTON - Rick Hoyt, who with his father pushing his wheelchair became a fixture at the Boston Marathon and other races for decades, has died. He was 61.
Hoyt died of complications with his respiratory system, his family announced on Monday.
"Rick along with our father, Dick, were icons in the road race and triathlon worlds for over 40 years and inspired millions of people with disabilities to believe in themselves, set goals and accomplish extraordinary things," the Hoyt family said in a statement.
Rick Hoyt had cerebral palsy, which left him a quadriplegic, but he and his father became as much a part of the Boston Marathon as sore feet or Heartbreak Hill. With Dick Hoyt pushing, the two completed the course 32 times.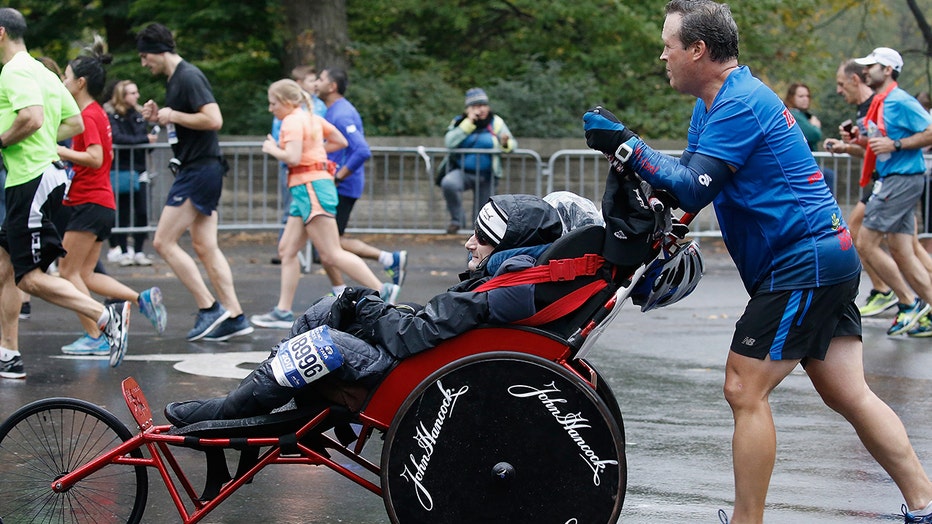 Rick Hoyt and Dick Hoyt run at mile 25 during the 2017 TCS New York City Marathon on November 5, 2017 in New York City. (Photo by John Lamparski/Getty Images)
The Boston Athletic Association presents a Rick & Dick Hoyt Award each April to someone who exhibits their spirit through advocacy and inclusion.
"Rick Hoyt will always be remembered as a Boston Marathon icon and for personifying the 'Yes You Can' mentality that defined Team Hoyt," the BAA said in a statement. "We are fortunate to have been able to call Rick a friend, mentor, pioneer, and Boston Marathon finisher."
RELATED: Therapy dog cheers runners at Boston Marathon
The father and son pair also participated in more than 1,000 other races, including duathlons and triathlons; in 1992 they completed a run and bike across the U.S. that covered 3,735 miles (6,010 kilometers) in 45 days. In 2013, a statue of father and son was erected near the Boston Marathon's starting line in Hopkinton.
"It's hard to believe they both have now passed on but their legacy will never die. Dick and Rick Hoyt have inspired millions around the world," said Dave McGillivray, the race director of the Boston Marathon and other events that the Hoyts participated in. "We will always be grateful, Rick, for your courage, determination, tenacity and willingness to give of yourself so that others, too, could believe in themselves, set goals and make a difference in this world as you have."