Ringling Bros. phasing out iconic elephant acts by 2018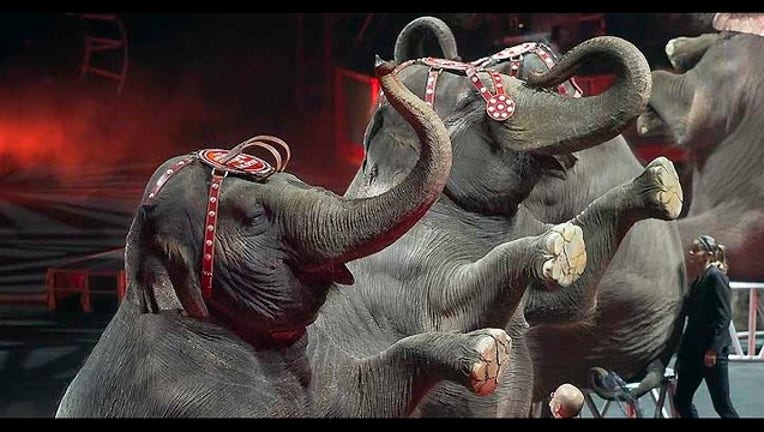 article
OAKLAND, Calif. (KTVU) -- Ringling Bros. announced Thursday that, after decades of controversy, they will exclude elephants from their shows within the next three years.
As iconic as the elephants of the "Greatest Show on Earth" are, the circus has finally given in to mounting public pressure and allegations of abuse to phase out elephants by 2018. The primary reason is the use painful, intimidating control devices called bull hooks that, through negative reinforcement, force elephants to do tricks.
Circus officials have always maintained that the do not abuse their elephants and take excellent care of them.
"I think it's a good thing that they're going phase them out. You know, it's unnatural," said 2nd grade school teacher Sara Johnson.
"It's a huge victory for elephants," said the Oakland Zoo's elephant manager Jeff Kinzley.
The Oakland Zoo uses so-called target sticks tipped with taped tissue paper to get the elephant to point at it, in exchange for a treat, for much more humane reasons.
"These allow us to access those parts of the body for physicals, for veterinary care, if we do have an injury of some sort, we can have vets come out to look at those areas," said Mr. Kinzley.
Kinzley also says the painful bull hook, the endless hauling around elephants in trains and making them do tricks simply became more unacceptable to circus patrons, forcing the circus to free the highly intelligent, social animals from the difficult existence.
"The only reason that this is happening is because of the education of the American public. Would we like to see it happen sooner? For sure," said Kinzley.
"This is 2015 and you can go to the zoo and see elephants and there's not need see elephants do what they're not supposed to do," said Johnson.
Some people even argue that zoos themselves should not exist because they keep animals are in captivity. In fact, circuses and zoos come from an ancient common origin: menageries of animals collected for public display and entertainment.
For circuses, getting exotic and often dangerous animals to obey and do tricks has been their bread and butter.
"It's not appropriate anymore to use these animals in the same way the entertainment industry has used the previously," said the Oakland Zoo's Membership Manager Sara Scates.
But some say zoos also confine zoos wild animals, denying them freedom, for public amusement.
"Our mission really is to educate the public about animals and support conservation in the wild," said Scates.
The simple fact of the matter is that most zoo animals were not captured in the wild. They were rescued from being abused pets or performers or born at the zoos themselves.
"We have our own breeding program, so we don't have to take animals from the wild," explained Scates.
The animals at zoos are ambassadors for their species.
"Because the wild populations in numerous species are declining and we need the education here on our end to be able to help those animals in the wild," argued elephant manager Kinzley.
Elementary school teacher Sara Johnson says the Oakland Zoo is a priceless teaching aid.
"I think that they're an educational opportunity for students. We're here on a field trip today with our students. They are second graders and they are super excited," said Johnson.
One problem: thought the National Association of Zoos and Aquariums sets the highest standards, which the Oakland Zoo meets, only about ten percent of such facilities adhere to those standards. That means patrons should check a zoo's status before taking their family there.
If zoos were eliminated, as some suggest, we would be left with only pictures and video of these creatures not close and personal. Without zoos, the alternative would be a trip to Africa, something financially impossible for most.