Road's collapse cuts off some Corralitos residents from rest of county
SANTA CRUZ COUNTY, Calif. - In the small community of Corralitos, Redwood Road goes from a way out, to a dead-end in the 100 block. 
A 20-foot-by-20-foot section of the street collapsed when the supporting soil was weakened by the most recent storm. Upwards of nine homeowners in this isolated section of unincorporated Santa Cruz County are cut off -- Unable to use vehicles to travel the miles-long serpentine path back into town.
"The residents of Santa Cruz County are not completely unaware of these kinds of situations…so if you live behind a situation on one of those roads, they get trapped," said Jason Hoppin, Santa Cruz County spokesman. "Fortunately they're resilient, but we are gonna try and get them some relief as soon as possible."
A local contractor, Tuesday, hauled in truckloads of boulders to fill the large gap in the roadway. Each stone, weighing approximately 4,000 lbs., is placed meticulously into the breach. Then, fill material will be added. The goal is to create a drivable foundation to allow vehicular access. 
Other residents are dealing with an area power outage that has PG&E crews working to restore service.
"We've had unprecedented wind, rain, landslides, trees coming down on our lines. So, just a number of issues," said PG&E Regional Vice President Teresa Alvarado. "But we are responding to any issue that is a hazard."
MORE: California governor tours storm-ravaged Santa Cruz County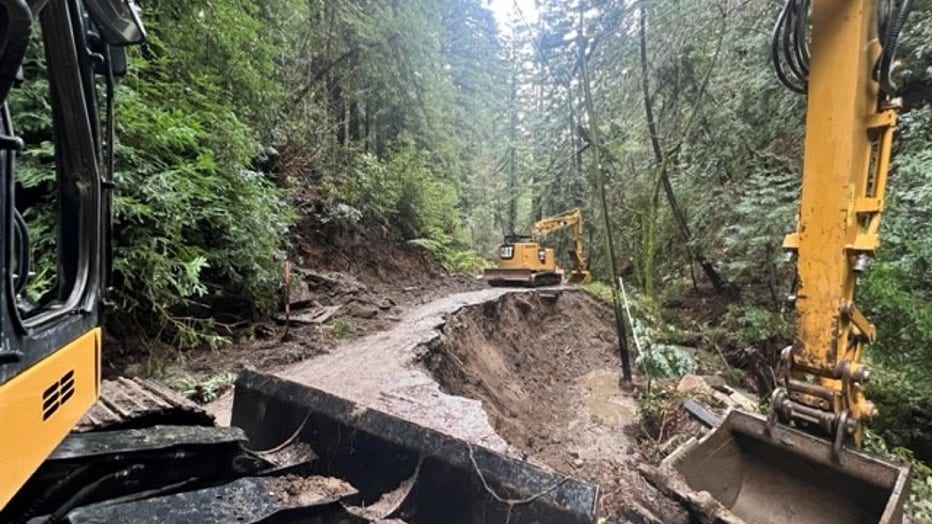 While street and utility repair work continues, some residents have been forced to live a camper's lifestyle.
"I got batteries in my radio, so I can listen to the radio. We have propane tank gas for the stove. So we have it real easy compared to a lot of people," said resident Denise Lepier.
The subcontractor working on the road says he'll have a temporary patch for residents to use by tomorrow afternoon. And repaving of Redwood Road is expected to be completed next week.
Jesse Gary is a reporter based in the station's South Bay bureau. Follow him on Twitter, @JesseKTVU and Instagram, @jesseontv
#####