Rockets' Howard unsure if he can play in Game 2 vs Warriors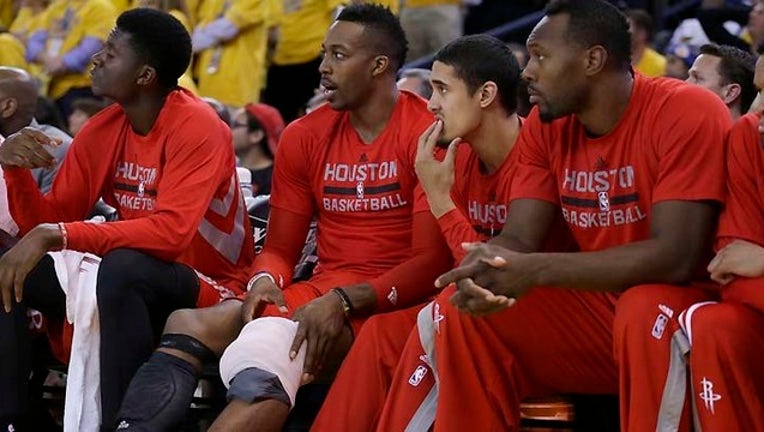 article
OAKLAND, Calif. (AP) -- Houston Rockets center Dwight Howard has a sprained left knee and is unsure whether he'll be able to play against Golden State in Game 2 of the Western Conference finals Thursday night.
Howard sat out practice Wednesday at Oracle Arena after an MRI confirmed the injury. He said his knee was still in pain and he'll listen to his body before deciding whether to play. He added that he has "no doubt" he'll return at some point in the series.
"The most important thing is that I'm healthy," Howard said. "Nobody can understand an injury when they're injured but the person that's injured. This is going to be on how I feel. If I feel like I can tolerate it and go out there and play on it, then I will. But my career is the most important thing. I want to do whatever I can to help the team, but I can't help the team if I'm hurt."
Howard hurt his knee in a first-quarter collision with teammate Josh Smith. He came back into the game in the second quarter but lacked his usual athleticism and eventually left with less than a minute into the fourth.
Howard finished with seven points and 13 rebounds in 26 minutes on the floor. The Warriors beat the Rockets 110-106 to open the best-of-seven series.
"It was very painful to play (Tuesday) night, and coach just felt like it was best that I sit out the rest of the game. I tried to play on it, but it's really nothing I could do," Howard said.
Asked if he could play if Game 2 was Wednesday night, Howard responded: "Thank God we don't have to play tonight."
Howard missed 41 of 82 games this season, mostly due to issues with his right knee. He said the latest injury is frustrating, especially this deep into the playoffs, and he's hoping for a fast recovery.
"Just stay positive. Don't allow any doubt or negativity to run through my mind," he said. "It was just a freak incident that happened. I'm not going to allow this to change my energy or my mood toward our goal or the positivity that we have all brought to this team."
If Howard can't play, the Rockets could turn to rookie Clint Capela as their starting center. The Switzerland-born Capela, who also played in the NBA Development League this season, had nine points on 4-of-4 shooting and four rebounds in 13 minutes in Game 1.
Capela said he'll be ready if called upon.
"I'm really just trying to focus on what I need to do on the floor," he said.
Rockets coach Kevin McHale said Capela can be a contributor, but it'll take a team effort to fill Howard's role if necessary.
"Clint's not going to turn into Dwight overnight," McHale said. "He might. He'll have to hit the weight room first."