Rockstar Energy Drink Mayhem Festival with Slayer and King Diamond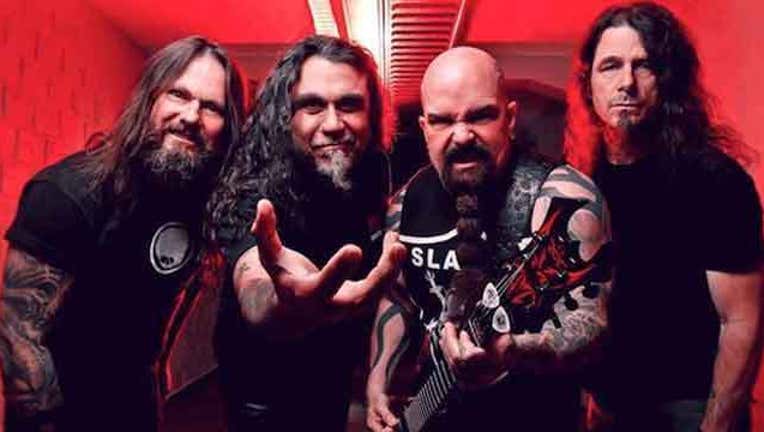 article
They may have never achieved the mainstream popularity of fellow thrash pioneers Metallica and Megadeth, but Slayer's dedication to creating relentlessly ferocious metal without compromise has earned the group something far greater: iconic status as one of the heaviest bands in the world and a fierce loyalty from a rabid fan base. 
Anchored by the tandem guitar attack of founders Jeff Hanneman and Kerry King, the blood-curdling bellow of singer/bassist Tom Araya, and the furious propulsion of monster drummer Dave Lombardo, Slayer pushed metal into more brutal and blasphemous territory starting with its 1983 debut Show No Mercy.Over the course of a nearly 30-year career, Slayer's dark vision and largely unchanged line-up has remained remarkably intact. Lombardo left in the early '90s, only to return in 2002 when his replacement, Paul Bostaph, was forced to retire due to a chronic injury. 
From the raw, punk-influenced beginnings of the band's early albums through seminal recordings like the landmark effort Reign In Blood, South of Heaven and Seasons in the Abyss, Slayer laid the blueprint for countless extreme metal bands that followed in their wake. In 2009, the band issued its second album since Lombardo's return, the blisteringly powerful World Painted Blood. Hailed by some as the band's greatest achievement since Seasons in the Abyss, the effort proved that the passage of time hasn't mellowed the brutal quartet one bit. 
Slayer had already been dealing with guitarist Hanneman's health issues after he contracted necrotizing fasciitis in 2011 and sat out several tours with Exodus guitarist Gary Holt filling in, but in 2013 the band was forced to cope with two serious blows. First Lombardo was fired over a pay dispute that had many fans crying foul, even after he was replaced by returning longtime drummer Bostaph. Far more difficult was the sudden passing of Hanneman in May from liver failure. 
The group decided to soldier on with Holt continuing in his role as the band's second guitarist and over the last year has been working in the studio on Slayer's first album since Hanneman's passing. Including several tunes the late guitarist had been working on prior to his death, Repentless is slated for fall release on Nuclear Blast. Tunes that have already been released including "Implode" and the vicious title track indicate Slayer has lost none of its characteristic ferocity.
Another highlight of this year's Mayhem Festival will be a main stage performance by iconic singer King Diamond. One of the most influential metal vocalists to emerge after the 1970s when he first came to fame fronting Danish band Mercyful Fate, Diamond would rise to even greater success with the horrifying concept albums he delivered with his eponymous band.
With a voice that ranged from a guttural growl to a soaring falsetto and his sinister, corpse-painted visage, Diamond and Mercyful Fate were pioneers of early black metal thanks to the anthems heard on the band's seminal albums Melissa and Don't Break the Oath. Those records would influence Metallica (who recorded a medley of Fate's best tunes on their Garage Inc. covers album), Slayer and a host of extreme metal bands that would follow in their wake.
When the group split up over artistic differences in 1985, Diamond formed his eponymous band and went on to explore a more storytelling approach with horror concept efforts Abigail, "Them," and The Puppet Master. Always a menacing figure live with his upside-down bone cross mic stand (made from an actual human femur and tibia), King Diamond upped the theatrics by introducing more elaborate stage craft, including costumed actors and illusionist tricks to flesh out his dark, gothic visions when performing.

Diamond had a major health scare a few years ago when he underwent triple-bypass surgery, but the singer eventually made his first post-operation return to the stage in 2011, performing a medley of Mercyful Fate hits with longtime admirers Metallica and old Fate bandmates Hank Shermann, Michael Denner, and Timi Hansen during Metallica's 30th anniversary shows at The Fillmore. Last year, Diamond and his band embarked on their first full tour of the U.S. in a decade to ecstatic audiences.

The balance of the main stage performances will include sets from supergroup Hellyeah (with Mudvayne singer Chad Gray, Nothingface guitarist Tom Maxwell and former Pantera drummer Vinnie Paul) and Devil Wears Prada. Earlier, the smaller Victory Records Stage will host rising metal bands Thy Art Is Murder, Jungle Rot, Sister Sin, Sworn In, Shattered Sun, Feed Her To The Sharks, Code Orange and Kissing Candice.
Rockstar Energy Drink Mayhem Festival with Slayer and King Diamond
Sunday, June 28, 1 p.m. $25-$75
Shoreline Amphitheater