Royals overcome 5 ejections to beat Athletics 4-2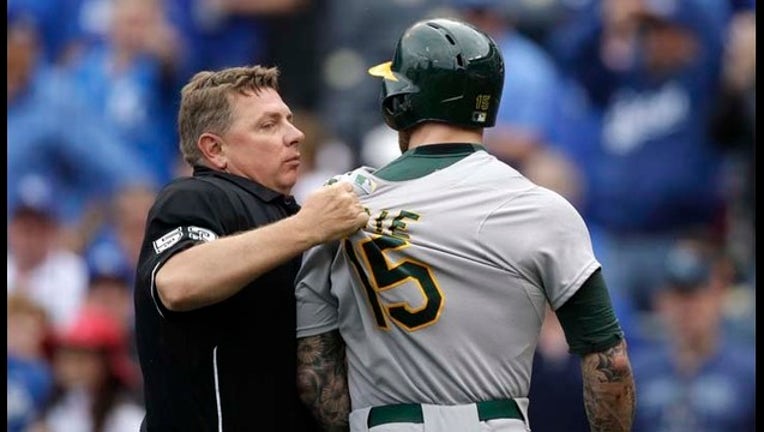 article
KANSAS CITY, Mo. (AP) — After Oakland and Kansas City cleared the benches for the third straight game and five more Royals got ejected, Lorenzo Cain tried to put a positive spin on the day.
"We didn't get into a fight, so that's always good," he said.
Hit by a pitch early, Cain came back to deliver a key blow, a tying double during a three-run rally in the eighth inning that sent the Royals over Oakland 4-2 on a tense Sunday.
Cain stole third after his hit and later scored on Kendrys Morales' go-ahead double.
The trouble started right away when Kansas City manager Ned Yost and pitching coach Dave Eiland were ejected in the first inning after Cain was hit by a pitch from Scott Kazmir. That prompted plate umpire Greg Gibson to warn both teams.
"I'm not really sure if it was intentional," Cain said. "I felt like it was intentionally. He (Kazmir) did ask if I was OK."
"No one likes getting hit. It doesn't feel good. It was definitely an intense series. A lot of guys got hit by pitches. A lot of bench clearings," he said.
Cain said that at least the sides avoided a brawl.
"Fighting is not the most important thing. Winning the ballgame, beating those guys is what hurts. The way we beat them tonight is huge," he said.
In the eighth, Royals reliever Kelvin Herrera was tossed after throwing a 100 mph fastball behind Brett Lawrie. Bench coach Don Wakamatsu, the acting manager after Yost's ejection, got tossed during an ensuing argument, as did injured Royals shortstop Alcides Escobar.
"I don't mean to hurt anybody," Herrera said. "I was just trying to throw inside, but just a bad grip on that fastball. It started raining pretty good. And they just tossed me out of the game."
Herrera pointed to his head as he went into the dugout, which irritated Lawrie.
"That's what got me hot. That's what got me mad. You can't throw at my head and then say, 'Next time I face you, it's in the head," Lawrie said. "He needs to play for that. He doesn't throw 85. He throws 100."
Lawrie was in the middle of the problems all weekend. His late slide forced Escobar to leave early Friday night — the shortstop called it a "dirty slide" and didn't play the rest of the weekend.
On Saturday, Royals ace Yordano Ventura was ejected when he Lawrie with a pitch after Josh Reddick homered.
Herrera said he pointed to his head to say "think about it."
"Do whatever you want to do, I'm out of the game already," he said.
Said A's manager Bob Melvin: "What are you going to do?"
"Brett got put in a tough situation. The umpires got it right. The umpires did the right things. It's hard when they're throwing at your head. It makes you uncomfortable."
With Kansas City trailing 2-1 in the eighth, Kazmir walked Paulo Orlando and Cain hit a one-out RBI double off Eric O'Flaherty (0-1). Cain stole third, Eric Hosmer walked and Morales doubled to deep center.
Franklin Morales (1-0) threw two pitches, retiring Lawrie on a popout.
With Greg Holland on the disabled list because of a pectoral strain, Wade Davis struck out two in a perfect ninth for his second save.
Ben Zobrist hit a pair of run-scoring singles against Royals starter Danny Duffy.