San Francisco city officials tout new protected bike lanes on 24th Bike To Work Day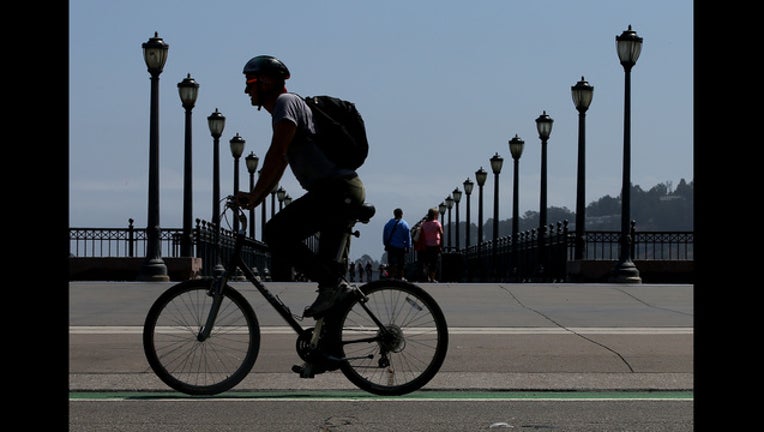 article
SAN FRANCISCO (BCN) - San Francisco officials today recognized the city's need for more protected bicycle lanes on the 24th annual Bike To Work Day.
After biking throughout San Francisco this morning, invigorated city officials congregated on the front steps of City Hall, where they emphatically encouraged others to make biking a part of their lives.
"As a city we're moving forward. We had a goal that Mayor Ed Lee talked about for years about having 50 percent of our trips being sustainable by 2020 and we have exceeded that already. We are at 54 percent this year, which is awesome," Mayor Mark Farrell said. "We're going to move that goal to 80 percent of trips being sustainable."
"So let's make sure that we redouble our commitment to not only be part of days of like this, but really to be part of the advocacy that makes sure that the rest of San Francisco understands how awesome today is and that every day can be like this in the city," Farrell said.
According to the San Francisco Bicycle Coalition, Farrell's bicycle trip this morning began with a ride down Market Street, where the city's Better Market Street Project is set to include a 2.2-mile stretch of protected bike lane from the Embarcadero to Octavia Street.
Afterward, Farrell, along with the bike coalition's executive director Brian Wiedenmeier rode on one of the city's newest protected bike lanes on Turk Street, stretching from Polk Street to Market Street. The Turk Street protected bike lane is the first in the city's Tenderloin neighborhood.
"Turk Street is an example of the kind of infrastructure that we can build quickly when city leaders, community members and people who bike come together and focus on solutions," Wiedenmeier said.
"I am so proud of the work that we have been able to do with members of the Bicycle Coalition to fight for the most protected bike lanes here in San Francisco in the downtown area. We're currently working on Polk Street, Second Street and we have much more to do," Supervisor Jane Kim said.
"To get people out of their cars and onto alternate modes of transit, we need to build more protected bike lanes, support bike share and other modes of transit. And also to support bike parking, so that you know that your bike is secure when you get to the location that you want to go to," she said.
As many people were expected to bike to work today, the bicycle coalition set up 26 "Energizer Stations" throughout the city, where commuters can get a free reusable bag, refreshments, participate in giveaways and learn more about biking.
"This is the biggest day of the year to celebrate biking and San Francisco has the biggest Bike to Work Day in the country," Wiedenmeier said. "You're going to see tens of thousands of people out today and some of them biking for the first time and we're going to be out there encouraging them and make sure they know that they're supported."
For more information about Bike to Work Day and to see a map of Energizer Stations set up throughout the city, bikers can visit http://www.sfbike.org/event/bike-to-work-day-3/.