San Francisco D.A.: No criminal charges filed in in-custody death, 3 police shootings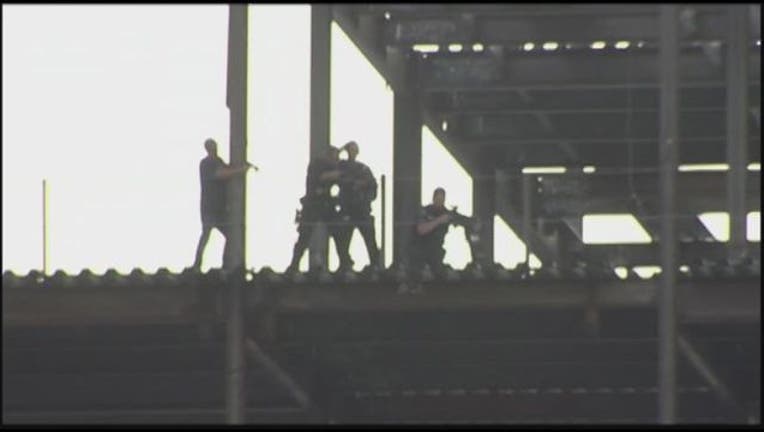 article
SAN FRANCISCO (BCN)-- The San Francisco District Attorney's Office today said no criminal charges would be filed in the in-custody death of a possibly suicidal man that is the subject of a lawsuit filed by the family, as well as in three officer-involved shootings from 2015 and 2016.
Alberto Carlos Petrolino, 50, was found dead on July 28, 2015 in a San Francisco jail shower stall after he hung himself.
Petrolino had been arrested on warrants on July 25, 2015 by a California Highway Patrol officer after his girlfriend notified police that he had left a voice mail message threatening suicide.
In a federal lawsuit filed in June of 2016, family members have said they and a defense attorney made attempts to warn sheriff's office officials that Petrolino, a chef and restaurant owner who had struggled with alcoholism, was suicidal. The lawsuit alleges he was not evaluated by a 
doctor, psychologist or psychiatrist or placed on suicide watch.
However, the report released by the district attorney's office today said Petrolino was screened, but repeatedly denied being suicidal.
He told the CHP officer who arrested him that his girlfriend was trying to get him in trouble with her phone call, the report said.
The CHP officer, in turn, discussed the possibility of Petrolino being suicidal with an intake nurse, who ordered a screening, where he again denied being suicidal, the report said.
Attorney Ernest Galvan, who is representing Petrolino's family in their lawsuit, said the lack of criminal charges was unlikely to have any bearing on the family's civil suit, which in addition to seeking damages aims to improve the way the jail handles suicidal inmates.
"Bringing a criminal case against peace officers is a big step, so I'm not surprised that in a case like this that they wouldn't take that step," Galvan said.
The district attorney's office today also found there was no basis for charges in three officer-involved shootings.
The first occurred on Oct. 15, 2015, when officers shot Herbert Omar Benitez, a 27-year-old San Francisco resident, during a struggle.
Police had tried to talk to Benitez after construction workers complained he had been breaking glass bottles near a work site.
When two officers detained him he allegedly resisted and, during the struggle, grabbed Sgt. Joseph McCloskey's gun from its holster and pointed it at McCloskey's head, according to the district attorney's office report.
In response, Sgt. Michael Koniaris shot Benitez twice.
The report found that Koniaris was acting in McCloskey's defense, and no charges were warranted.
The second shooting occurred on Oct. 25, 2016, when members of the San Mateo County Vehicle Theft Task Force pursued a suspect to the area of Faxon Avenue and Montana Street in San Francisco.
According to the district attorney's report, officers shot the suspect while he was driving after he accelerated a stolen vehicle toward law enforcement officers during an attempted stop.
The suspect, who was initially identified by police as 39-year-old Ansar Muhammed, was identified by the district attorney's office today as Notorious Dickerson. He suffered multiple gunshot wounds to the torso but survived his injuries and was later arrested.
Prosecutors declined to file charges against the agents because they could not prove that their actions were taken in defense of themselves and others.
In the final shooting, police shot and killed Javier Lopez Garcia on Nov. 11, 2015.
Police found Lopez Garcia standing on the sixth floor at a construction site after receiving a 911 call reporting a man with a gun.
The officers saw him holding a long gun in his hands, and when they commanded him to drop the weapon, he allegedly pointed it toward some officers.
Three officers, Officers Jeffrey Camilosa, Andres Garza and Sgt. Jeffrey Aloise, fired at Lopez Garcia, killing him.
Investigators later determined that Lopez Garcia had been brandishing a shotgun stolen from a San Bruno sporting goods store, and that he had told store employees during the robbery that he was "suicidal" and "not afraid to get shot," according to today's report.
He also allegedly told construction workers on the site he was suicidal and "ready to die," and recorded videos on his cellphone saying the same.
The report concluded the officers were acting in self-defense and in defense of others.