San Francisco mayor 'disappointed' after supes reject police commission reappointments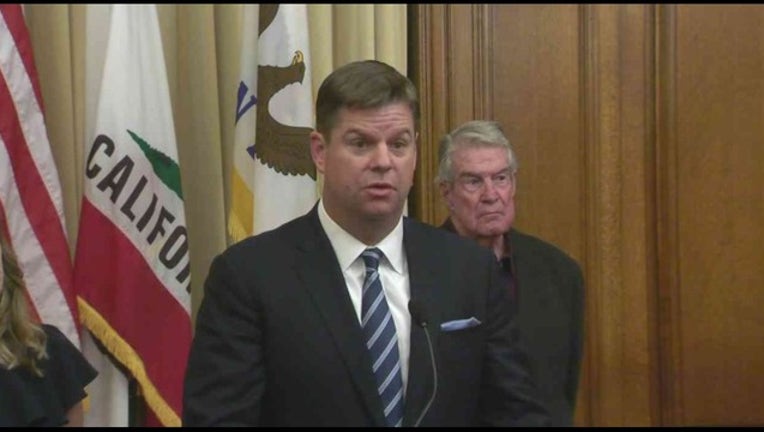 article
SAN FRANCISCO (BCN) - The San Francisco Board of Supervisors at its meeting Tuesday declined to reappoint two Police Commission members nominated by Mayor Mark Farrell in advance of next month's mayoral election.
The 6-5 vote leaves the commission with only four current members, meaning it doesn't have a quorum to meet for the time being.
The blow to the commission comes as the city is in the middle of the June 5 mayoral election campaign and use-of-force policy reforms are taking place at its Police Department.
"I will not be able to support Sonia Melara or Joseph Marshall to be reappointed to the Police Commission," Supervisor Sandra Lee Fewer said at the meeting. "With all due respect, I strongly feel approval of mayoral appointments, only three weeks before voters cast their vote for the next mayor of San Francisco, is premature."
Following the death of Mayor Ed Lee in December, Farrell was chosen by the board to serve as mayor until the June 5 election, in which he is not running. Board president London Breed, Supervisor Jane Kim, former state Sen. Mark Leno and former supervisor Angela Alioto are among the candidates seeking the seat.
"I believe it's imperative we pause and allow the new mayor who will be sworn in July to weigh in on these critical decisions. The Police Commission is one of the most powerful commissions in the city of San Francisco and we need to make sure decisions for appointment are made with careful thought and intention," Fewer said.
"In light of the unanimous decision to approve major police reforms and in light of the possible departure of our chief of police, this is simply not the time to approve these appointments," Fewer said, referring to speculation that police Chief Bill Scott is vying for the position of chief of the Los Angeles Police Department.
In a statement, Farrell said, "I am extremely disappointed that the Board of Supervisors decided to politicize the appointment process of the Police Commission at such a crucial time in our city."
"Without these appointments, the Police Commission lacks quorum and cannot meet. Citizen oversight of the Police Department is not occurring. We will not have a full commission until September, due to the politicization of these nominees," he said.
"In rejecting Commissioners Melara and Marshall, the Board has halted the critical work of overseeing implementation of police reforms. This includes institutionalizing our new-use-of force policies, training for Tasers, partnerships with the California Department of Justice and officer discipline cases," Farrell said.
The reforms taking place at the Police Department are part of a set of 272 recommendations made by the U.S. Department of Justice in 2016 involving use-of-force.
Earlier this year, former Commissioner Bill Ong Hing chose not to seek reappointment, as did former Commission President Julius Turman, who passed away Sunday.