San Francisco mayor's race draws big names, crowded field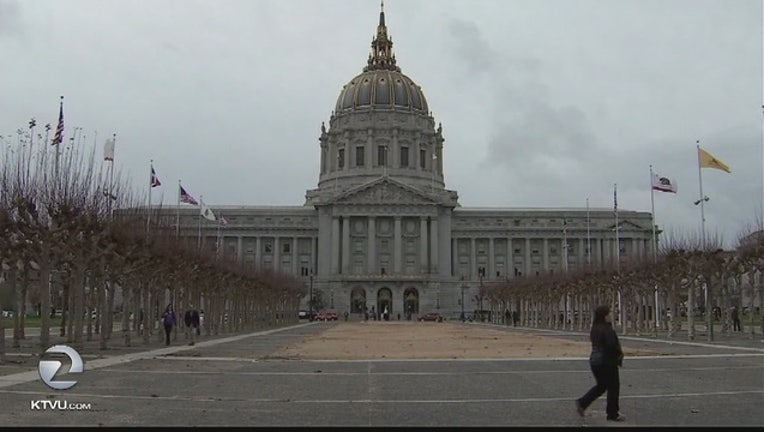 article
SAN FRANCISCO (AP) - Eight candidates had qualified by Tuesday morning to run in San Francisco's mayoral race and the ballot could become even more crowded in a contest expected to pit the city's progressive values against its thirst for economic development following years of spectacular but divisive growth driven by the technology sector.
 
The eight were qualified by the city's election race and there were 18 other potential candidates who had until the end of Tuesday to submit filing papers. The race had been scheduled for November 2019 but was moved to June after Mayor Ed Lee, a Democrat, died of a heart attack in December after he collapsed while grocery shopping.
 
The city's next mayor will have to navigate deep divisions over the effect of economic growth on housing, traffic and basic livability. The median home value, for example, is nearly $1.3 million and the median rent is $4,400 -- pricing out all but the wealthiest newcomers. 
 
"The driving issue is the city of San Francisco's relationship with the tech industry, and want that relationship to be," said Jim Ross, a political consultant who managed Gavin Newsom's winning campaign for mayor in 2003. 
 
He added: "It's the status quo of what we've seen for the last eight years, versus is there going to be a change?" 
 
Among the candidates are politicians who could become San Francisco's first permanent female African American mayor or first openly gay mayor. 
 
Lee's legacy of promoting expanded development is very much a factor in an election where critics still blame him for ushering in a prosperity that they say has not benefited everyone. For example, he approved a tax break for Twitter and other companies as part of an effort to revitalize part of the downtown area. He also vetoed legislation that would have subjected Airbnb and other online vacation booking sites to stricter regulations. 
 
Board of Supervisors President London Breed ascended to the role of acting mayor and is seeking the job full-time, though some of her colleagues on the board would like Breed to step down as board president while she campaigns. 
 
Others who qualified for the ballot are former state Sen. Mark Leno, a longtime Democratic activist and openly gay politician who wrote legislation to expand gay rights and higher minimum wages; Supervisor Jane Kim, who was endorsed by Sen. Bernie Sanders in her unsuccessful run for state Senate last year; and former Supervisor Angela Alioto, an anti-discrimination lawyer and daughter of former Mayor Joseph Alioto. 
 
Another possible big-name candidate, city attorney Dennis Herrera, has not said whether he will run.
 
Breed and Leno are the front-runners based on name recognition and access to money, said Jason McDaniel, an associate professor of political science at San Francisco State University. 
 
Both are Democrats, but Leno has positioned himself as the "progressive" who will stand up to big-money interests and focus on the people being pushed out of San Francisco. Leno has the support of Supervisor Aaron Peskin, who is leading the charge to appoint an interim "caretaker" mayor who is not interested in keeping the job permanently. 
 
Breed, who is African American and talks of growing up poor in San Francisco public housing, is backed by former Mayor Willie Brown, a kingmaker for decades of city politics and a member of the "moderate" branch of city politics. She said in a tweet announcing her candidacy: "I'm not a partisan. I'm not an ideologue." 
 
San Francisco has gone through the process twice before. 
 
In 2011, Lee was tapped as interim mayor when then-Mayor Gavin Newsom became lieutenant governor. Lee said he wasn't interested in having the job permanently but then ran for two terms. In 1978, Dianne Feinstein became mayor when Mayor George Moscone and board president Harvey Milk were assassinated. She then won two full terms.
 
Whoever wins in June will fill out the remainder of Lee's term through 2019 and can run for another two four-year terms if they choose.
 
San Francisco uses a ranked-choice voting system, which is also known as instant runoff. The system allows voters to rank the candidates in order of preference on the ballot, whittling down the candidates until there's a winner so there is no runoff. The mayor's post is nonpartisan.  
 
Candidates who qualify on Tuesday are allowed to withdraw until Jan. 30.