San Francisco sues Sessions and DOJ over repeal of civil rights guidance document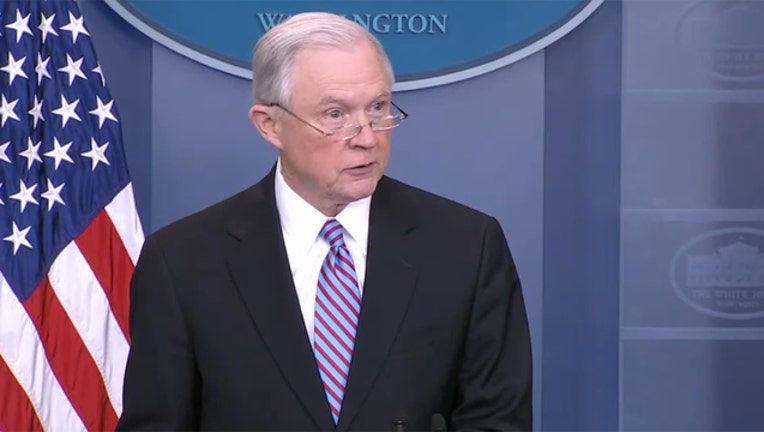 article
SAN FRANCISCO (BCN) The city of San Francisco sued U.S. Attorney General Jeff Sessions and the Justice Department today over the repeal of six guidance documents protecting the civil rights of various groups. 
The lawsuit, filed in federal court in San Francisco, claims Sessions's withdrawal of the documents last year violated the U.S. Administrative Procedure Act by failing to provide a meaningful explanation 
for the action. 
The lawsuit charges the repeal is part of a pattern in which the department under Sessions allegedly "has shown a shocking disregard for protecting the rights of vulnerable communities, rolling back civil rights initiatives in a wide variety of areas."
It asks for a court order reinstating the guidance documents.
The six letters and statements were issued to state and local governments and employers under previous administrations between 1999 and January 2017.
They concern the department's views on how to carry out laws and U.S. Supreme Court rulings that protect low-income people, minority group members, people with disabilities and immigrants.
Justice Department spokesman Devin O'Malley said the agency declines to comment.
The documents were among 25 guidance directives rescinded by Sessions in December. Sessions said the directives were "unnecessary, inconsistent with existing law, or otherwise improper" but never gave a more detailed explanation for withdrawing the six at issue in the lawsuit, 
according to the complaint.
City Attorney Dennis Herrera said in a statement, "More than 50 years after the Civil Rights Act was passed, we should be surging forward on equality in this country, not having to fight the federal government to restore civil rights protections. 
"At a minimum, the public is entitled to an explanation of why this was done," Herrera said.
The Administrative Procedure Act of 1946 prohibits "arbitrary and capricious" decisions by federal administrative agencies. It has been interpreted by the U.S. Supreme Court to require a "reasoned explanation" for agency actions.
Alleged violation of the law has been a basis for a number of lawsuits filed in recent months by city and states to challenge actions by the administration of President Donald Trump.
The San Francisco lawsuit alleges that without an explanation of what was allegedly wrong with the guidance, local governments and employers are left to guess about how to carry out the laws at issue.
Four of the documents cited in the suit were developed for state and local governments or agencies. They concerned protections for people with disabilities in government-sponsored workshops and group housing and prevention of discrimination in fines for adults and juveniles.
The other two documents were letters explaining employers' responsibilities in conducting citizenship documentation of workers and avoiding discrimination on the basis of national origin.