San Francisco's winter homeless shelter set to open at Pier 80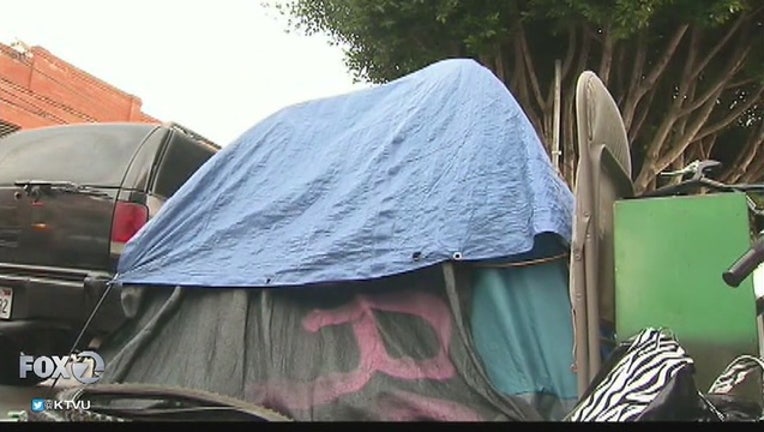 article
SAN FRANCISCO (KTVU) - It might not be very homey, but San Francisco officials are hoping as many as 150 people will call Pier 80 home this winter.
   
City workers were putting the finishing touches this week on a new shelter inside the pier's shed, consisting of a 9,900-square-foot tent with mattresses and pillows spread across a tarp on the ground, separate showers and restrooms, as well as office space for social and health workers inside portable buildings.
   
Expected to open on a small scale as soon as today or Friday, the shelter is intended to be the city's response to El Nino and the heavier winter storms that have been predicted. Depending on the weather, it will operate through March or April.
   
Trent Rhorer, executive director of the city's Human Services Agency, said during a tour of the shelter Wednesday that the city so far this winter has been temporarily increasing the number of beds available at existing shelters and other locations on nights when storms are expected.
   
The feedback from homeless outreach workers, however, suggests that approach isn't working well for everyone.
   
Many homeless people have large amounts of belongings that shelters won't let them bring in, Rhorer said. They have pets, which many shelters don't allow, or they are part of a couple and most shelters are single-sex. Moving inside can mean losing the spot they have staked out.
   
"For one or two nights, it really isn't worth it to get their stuff together and move inside," Rhorer said.
   
Based on a model pioneered at the city's Navigation Center in the Mission District, the new shelter at Pier 80 will provide storage for belongings. Pets will be allowed and couples can stay together. Residents can stay all day, with access to restroom facilities and social services that city officials hope will help get them off the street permanently.
   
While the pier area in the city's Dogpatch neighborhood feels remote, it is close to a T-Third light-rail line stop, and shelter workers will provide both Muni tokens and transportation for clients who need help hauling their things or to go into town for things like medical appointments, city officials said.
   
Setting up the shelter in the pier shed, which previously housed Oracle Team USA during the America's Cup sailing races, is a significant undertaking costing the city around $500,000, Rhorer said. The shed, a cold, echoing space bigger than a football field, has a roof that leaks and needed extensive work to supply power, water and sewer connections.
   
The shelter will cost around $150,000 a month to operate, Rhorer said.
   
Homeless advocates and protesters in recent weeks have alleged that the city is working to push the homeless out of sight in time for the Super Bowl celebrations taking place through this weekend. A large protest was held Wednesday outside Super Bowl City near the Ferry Building to call attention to the need for more housing and help for the homeless.
   
City officials, however, have denied that they are increasing enforcement on homeless encampments because of the Super Bowl. Rhorer said Wednesday that the timing of the new shelter's opening had nothing to do with the Super Bowl and everything to do with the weather.
   
"We're opening the shelter to take care of people and get them inside, this has nothing to do with the Super Bowl," Rhorer said.
   
Sam Dodge, head of the mayor's office of Housing, Opportunity, Partnerships and Engagement, said he appreciated the protesters' "passion and energy" and the attention that has been drawn to the issue of homelessness.
   
Dodge said the city hopes the new shelter will help get more of the 3,500 people currently estimated to be living on the street to engage with city services.