San Jose police union cancels rifle raffle in wake of Gilroy shooting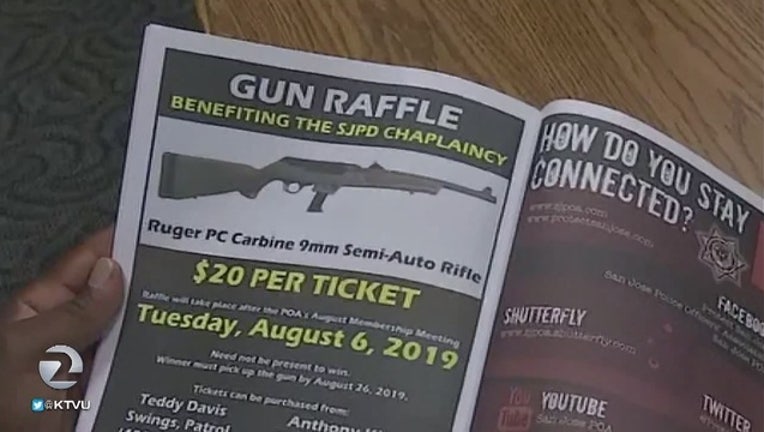 SAN JOSE, Calif. (KTVU) - Leaders of San Jose's Police Officer's Union say the intent behind a now canceled raffle was legitimate; to raise donations for the department's two chaplains and related services. But what was used to try to entice people to give money stirred up a hornet's nest, and prompted a permanent change in plans.
"The timing is horrible, and once we realized it, we knew we had to act," said SJ Police Officer's Association President Paul Kelly.
Friday at union headquarters in San Jose he did a public mea culpa, after severe backlash to a scheduled union raffle. Inside the July issue of the union's monthly magazine "Vanguard," was an ad offering the chance to win this nine-millimeter semi-auto rifle, if a ticket for an August 6 raffle is purchased for $20.
"Just outrageous. It just doesn't make any sense," said former Santa Clara County Superior Court Judge LaDoris Cordell.
Cordell, a former San Jose police independent auditor, says the magazine spread sent shock waves through the city and beyond. Especially coming on the heels of Sunday's mass shooting in Gilroy. Suspect Santino Legan used an assault-style weapon to kill three people and wound more than a dozen others before turning the gun on himself. 
"It just flies in the face of everything the community stands for which is against this kind of gun violence," she said.
The union says the raffle isn't new and the roughly $20,000 in donations are used to support the department's two chaplains who are not paid, and their services. Usually, the raffle is for a new service weapon for officers only. This year, the organizers switched to a rifle, which the union president says, caught him by surprise.
"I'll take full responsibility that I didn't take it down after Gilroy. Our focus was just on Gilroy. But, I absolutely think it was a mistake not to take it down sooner. And I apologize for that. But you know what, we did. It's the right thing to do," said Kelly.
In response to the union's decision to cancel not only this year's raffle but to end the program permanently, Cordell said, "That's a good decision. And I hope they keep their word that the gun raffle is off the table forever."
But Cordell also wants an investigation into how the decision to raffle firearms originated and was ongoing, until now.