San Leandro lottery winner picks 5 of 6 numbers in Powerball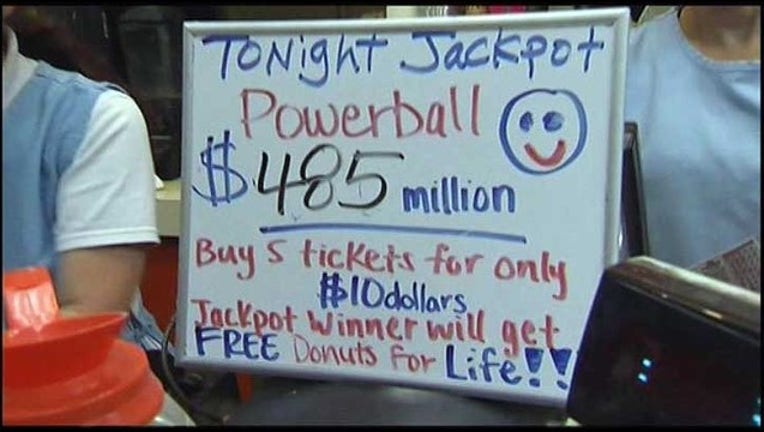 article
SAN LEANDRO, Calif. (KTVU and wires) -- Someone may be $1.4 million richer after buying a winning ticket at a market in San Leandro that matched five numbers in Wednesday's Powerball drawing, California Lottery officials said.
The winner of the $2 ticket sold at Pop Top Market & Liquor at 14817 E. 14th St. has not yet claimed the prize. The winning numbers are 11, 13, 25, 39 and 54. The Powerball number, which the ticket did not match, is 19.
The winner has 180 days from Wednesday to claim the prize.
No one in California hit the jackpot in the multi-state game, but jackpot-winning tickets were sold in North Carolina, Texas and Puerto Rico. Each of those winners will share in the $564.1 million prize, the fifth-largest jackpot in U.S. history.
The largest jackpot in U.S. history was $656 million in a 2012 Mega Millions game. Individuals from Kansas, Illinois and Maryland shared in that prize.
Owners of Pop Top Market & Liquor and two other California lottery retailers will receive a $7,000 bonus for selling tickets that matched five numbers in Wednesday's drawing.
Retailers win a half a percent of the winning amount when they sell a ticket that pays more than $1 million. The $7,000 does not come from the winners' payout and the retailer does not have to wait for the winner to claim their prize before receiving the bonus, lottery officials said.
Lottery officials encourage the winners to sign the back of their tickets and go to the nearest California Lottery district office. An East Bay office is located in Hayward at 2489 Industrial Parkway W.