San Mateo-Hayward Bridge to close for 2 weekends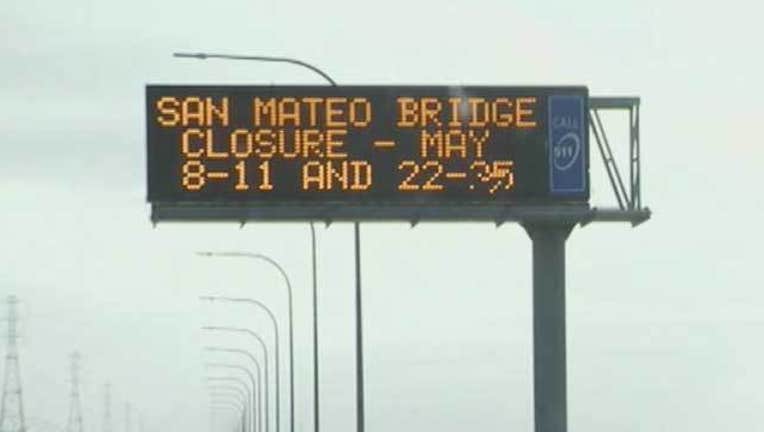 article
HAYWARD, Calif. (KTVU and wires) -- Beginning on Friday, Caltrans will close the San Mateo-Hayward Bridge for two full weekends, as crews resurface and treat the deck structure and perform routine maintenance to the bridge. 
The full closure of all eastbound and westbound lanes will start on Friday, May 8, at 10 p.m. and last through Monday morning at 5 a.m., according to Caltrans officials. 
Caltrans officials said that on Friday, westbound lane closures could start as early as 7 p.m. and eastbound lane closures as early as 8 p.m. 
Another full closure is set for Memorial Day weekend, starting on May 22 and lasting through May 25, Caltrans officials said. 
The same times would apply for the closure that weekend as well, according to Caltrans. During the closures, Caltrans said commuters could use alternate routes, such as the Dumbarton Bridge, the San Francisco-Oakland Bay Bridge and state Highway 237 in the South Bay. 
Caltrans officials said all mainline traffic on Highway 92 will be guided to exit eastbound at Foster City Boulevard and westbound at Clawiter Road. 
According to Caltrans officials, the on-ramps from Edgewater Boulevard and Metro Center Boulevard in the eastbound direction in Foster City will be closed. In the westbound direction in Hayward, the on-ramps from Industrial Boulevard and Clawiter Road will also be closed. 
Caltrans officials said changeable message signs have been posted throughout the Bay Area to notify motorists of the upcoming closures. 
For more information and updates on the San Mateo-Hayward Bridge project, drivers can visit www.dot.ca.gov/dist4/projects2/sanmateobridge/.