San Mateo Sheriff's car involved in crash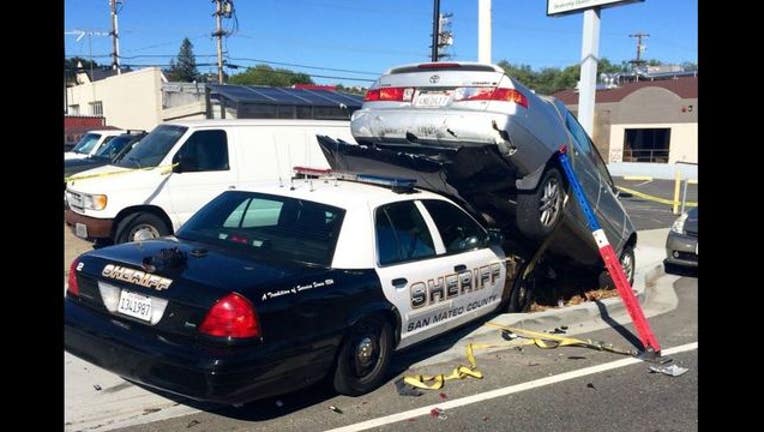 article
SAN CARLOS, Calif. (KTVU) -  A San Mateo County sheriff's sergeant suffered minor injuries when he was involved in a collision this morning in San Carlos during a vehicle pursuit with a suspect allegedly driving recklessly.
Around 7:40 a.m., sheriff's officials received a report from the San Carlos Fire Department that a driver had struck a fire station at the corner of Alameda de las Pulgas and Howard Avenue, according to sheriff's spokesman Detective Sal Zuno.
When fire personnel tried to check on the female driver, she fled in her vehicle. Fire personnel were able to take the car's license plate number, describing it as a silver Toyota, Zuno said.
As deputies began searching for the driver, they received another report that a driver crashed into a Safeway store in Belmont, located at 1100 El Camino Real. The crash damaged a door at the store, according to Zuno.
The driver fled in her vehicle from that crash. A sheriff's sergeant then followed her as she traveled south on El Camino Real.
The sergeant tried to pull the vehicle over, but the driver allegedly ignored him. A low speed pursuit at about 35 mph then ensued, Zuno said.
During the pursuit, the driver then collided with another vehicle on El Camino Real at Olive Street, according to Zuno.
Concerned for his safety, the sergeant tried to block the suspect's vehicle with his patrol car and collided with it, Zuno said.
After the collision, deputies arrested the woman, identified as 54-year-old Karen Teichmann of San Carlos, according to Zuno.
Both Teichmann and the sheriff's sergeant were taken to a hospital with minor injuries, Zuno said.
Deputies are working to determine whether drugs or alcohol were a factor in the incident.
Deputies initially closed El Camino Real between Olive Street and Arroyo Avenue as they investigated the incident. The roadway has since reopened, according to the sheriff's office.