San Ramon teachers, school district reach tentative agreement to avoid strike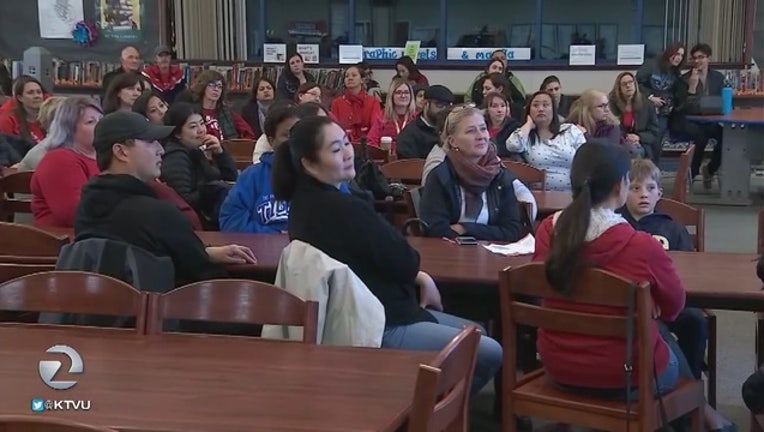 article
SAN RAMON, Calif. (KTVU) - San Ramon Valley teachers and the school district reached a tentative agreement on Friday, averting a possible strike next month, according to the San Ramon Valley Unified School District. 
Both sides negotiated during a 13-hour bargaining session Wednesday, took a break for Thursday and resumed negotiations for two hours Friday before reaching a deal. Under the new agreement to be voted on next week, caps will be placed on class sizes and caseloads and teachers in the San Ramon Valley Education Association will receive a four percent ongoing base salary increase.
Additional highlights of the tentative agreement include, but are not limited to: A .18 percent retirement plan increase, extended work year and revised salary schedule for school nurses, lower student to staff ratios for counselors, nurses and librarians and increased stipends for teachers who support new teachers. 
The final sticking point was over class size. The district and the San Ramon Valley Education Association representing 1,500  teachers had agreed to a reduction, but the district wanted the right to unilaterally withdraw any improvements after three years in case of any financial setbacks.
The district backed off the demand Friday and agreed the two sides would re-open negotiations if any future problems arise.
In a statement, SRVEA President Ann Katzburg said both sides can stand with pride for coming together. She acknowledged that students were at the "forefront of everything" they do and expressed gratitude to parents.
"We saw how much this community values and supports its educators. This means the world to us and strengthens our resolve to make San Ramon Valley an even better school district as we move forward," Katsburg said. 
District Superintendent Rich Schmitt shared Katzburg's appreciation for the agreement, noting that it improves the learning environment for both teachers and students.
"We are all aligned in our priorities to provide world class educational opportunities with an emphasis on each student's personal and academic growth," Schmitt said. "This agreement builds a bridge to the future, allowing both parties opportunities to work collaboratively on a coordinated effort to support local and statewide funding concerns."
Teachers, who authorized the strike last week, will present the tentative agreement for ratification at a meeting on Monday at the Dougherty Valley High School library. Voting will take be held from Tuesday through Thursday.
After voting, the Board of Education will be asked to ratify the agreement at a March 26 meeting. Teachers will receive their retroactive salaries for 2018-1019 in an upcoming payroll once ratified. 
But problems facing school districts across California are not going away. "Declining enrollment which we are experiencing for the first time, rising pension costs, not enough money coming in to cover all the increases. That is the tension you are seeing in different school districts and it certainly took place here," said district spokeswoman Elizabeth Graswich.