Santa Clara sheriff's captain accused of role in gun permit bribery scheme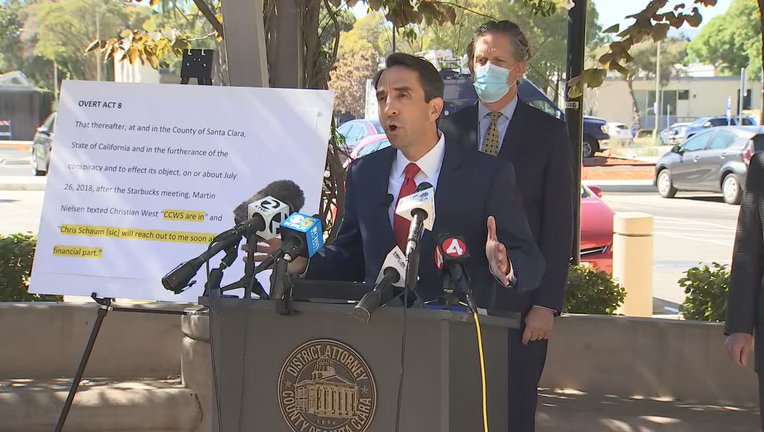 article
SAN JOSE, Calif. - A captain in the Santa Clara County sheriff's office and others have been indicted for an alleged campaign bribery scheme to get concealed weapons permits for employees at a security firm.
A grand jury indicted Captain James Jensen, attorney Christopher Schumb, attorney Harpaul Nahal, and business owner Michael Nichols on felony bribery and conspiracy charges, the Santa Clara District Attorney's office announced Friday. 
The plot unfolded while Sheriff Laurie Smith was enmeshed in a challenging re-election campaign in 2018, the Santa Clara County Dstrict Attorney's office said. Smith was in position to approve or reject the applications for the concealed firearms. 
The defendants, along with "the CEO and a middle manager" of AS Solution, allegedly offered a $90,000 bribe to a group supporting Smith's race get the gun permits for AS Solution agents, District Attorney Jeff Rosen's office claimed. 
"The mission and purpose of the district attorney's office is to hold public officials accountable. That's what our job is," said Rosen. 
The DA's office said it began investigating after Metro Silicon Valley reported about an extremely large donation to Smith's campaign. 
"CCW licenses should not be given out in exchange for campaign donations. They should not be for sale," Rosen said in a statement, using another acronym for concealed carry permits.
According to the indictment, the conspirators agreed that a $90,000 donation would be made to an independent group supporting Smith's race for reelection in exchange for 10-12 CCW licenses for AS Solution agents.
An initial payment of $45,000 went to Santa Clara County Public Safety Alliance, the group supporting Smith, the DA's office said. The second half of the alleged bribe was not paid due to the investigation.
"This has apparently been a question in this sheriff's office for the past decade. People have been asking how concealed carry permits are provided," said Ann Skeet, senior director at the Markkula Center for Applied Ethics.
"I'm not gonna say I was cheated. I think the voters voted based on the information they had at the time," said retired Undersheriff John Hirakowa. At the time, the sheriff's race between the two was close. "If they had this information now, things might have changed," said Hirakowa.
The sheriff's department sent an email statement that read in part, "[Captain] Jensen will be placed on administrative leave immediately pending the receipt of any additional information from the District Attorney's Office. We will continue to monitor the situation."
"If the sheriff says she didn't know anything about this, that should raise very serious concerns about her leadership," said retired Santa Clara County Superior Court Judge LaDoris Cordell, an outspoken critic of Smith's. "We're now being shown what looks like a culture in the sheriff's department and it's not about use of force. It's about cheating. It's about lying. It's about bribery."
Rosen said the grand jury's report will be unsealed in a few weeks which will answer more questions. 
KTVU has not yet reached the defendants for comment. They are scheduled to be arraigned in San Jose at 9 a.m. on August 31. 
KTVU's Jesse Gary contributed to this story.