Santa Rosa man shot by Sonoma State officer in Cotati ID'd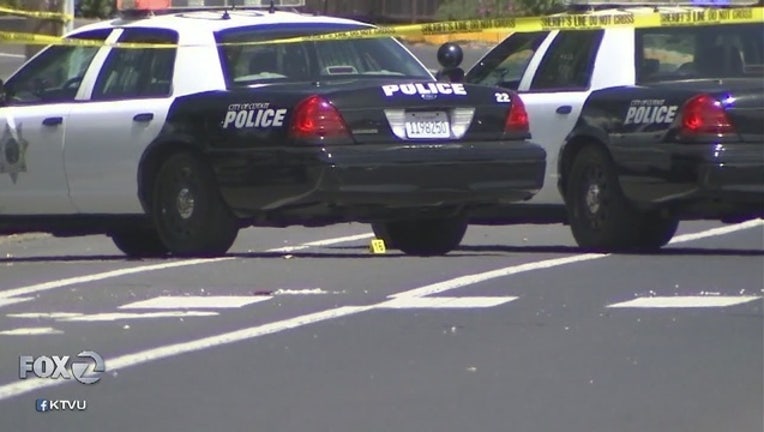 article
By Bay City News Service
The Sonoma County Sheriff's Office today identified the suspect who was shot by a Sonoma State University officer in Cotati Friday as Eduardo Martinez Sanchez, 22, of Santa Rosa.
The suspect's name is included in a lengthy account by sheriff's Sgt. Spencer Crum of the shooting and other events that began around 2 a.m. when the SSU officer helped a Cotati police officer and sergeant break up a
physical fight in downtown Cotati as bars were closing.
After that fight was over, the officers were alerted to another fight across the street when they heard four gunshots in rapid succession. When the officers took cover, they saw people running toward them on
westbound East Cotati Avenue, Crum said.
The people told officers a man was beating a woman, and when they tried to intervene, the man started shooting at them. The officers then found clothing and four shell casings from a handgun in the East Cotati Avenue area, Crum said.
Rohnert Park Department of Public Safety officers responded and informed the other officers there were potential shooting victims at a Starbucks in the 600 block of East Cotati Avenue. A female witness told
Cotati police she saw a Hispanic man with short hair yelling at and striking a woman, Crum said.
When the witness tried to intervene and struck the suspect in the face, the man struck her, grabbed her throat and threatened to kill her with a silver-colored handgun. The man shot at the female witness and other
witnesses as they fled the area, but no one was injured, Crum said.
The SSU officer, who had attended a debriefing on the earlier events, was driving east in the 100 block of East Cotati Avenue around 4:45 a.m. when he saw Martinez Sanchez emerge from a creek bed. Martinez Sanchez
matched the description of the suspect in the earlier shooting, and the SSU officer contacted him, Crum said.
Martinez Sanchez pushed the SSU officer away and started to run west on East Cotati Avenue. The SSU officer attempted to shock Martinez Sanchez in the back with a Taser, but Martinez Sanchez kept running to
enclosed fenced area of the New Hope Church at 183 E. Cotati Ave., Crum said.
The SSU officer saw Martinez Sanchez try to grab a silver object, which he believed was a handgun, from his waistband and turn his body toward him several times during the pursuit. When the officer clearly saw a silver object that Martinez Sanchez was trying to pull out of his waistband, he was certain Martinez Sanchez was trying to pull a gun on him, Crum said.
Martinez Sanchez slowed to a walk in an enclosed area of the church, then with his hand in his waistband, started to turn toward the officer. The officer feared for his life and shot twice at Martinez Sanchez
who was struck in the back, Crum said.
Cotati police arrived, started life saving efforts and requested medical aid. A loaded, silver-colored semi-automatic handgun was found in bushes where Martinez Sanchez was shot. The gun, which was reported stolen in Maryland, was the same caliber as the shell casings found earlier, Crum said.
Martinez Sanchez was taken to a hospital and is listed in critical condition. He is on parole and has a lengthy history of weapons, gang and violent offenses, Crum said.
Sonoma State University does not issue body-worn cameras to officers, and the SSU officer's name is not being released until his safety is not jeopardized Crum said.
The sheriff's office will recommend the Sonoma County District Attorney's Office file several felony charges against Martinez Sanchez, and Cotati police also are investigating the incident regarding felony charges,
Crum said.