Santa Rosa preschool devastated by overnight fire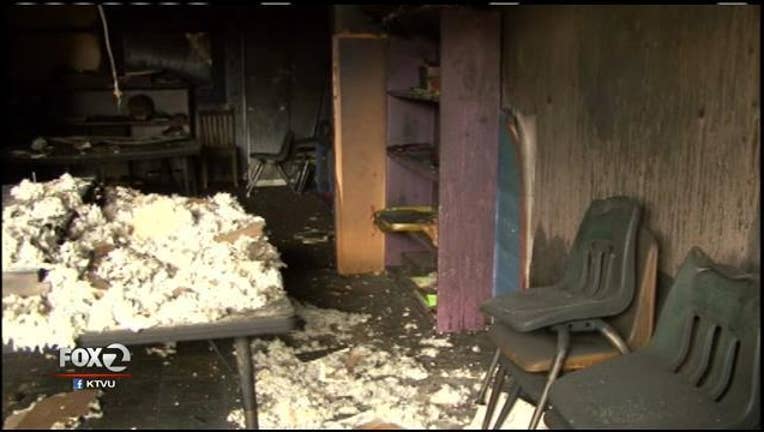 article
"It's completely charred, completely black and you can see through the roof, " teacher Jenny Lynn told KTVU, as she surveyed the damage at the Children's Learning Center on West Steele Lane, across from the Coddingtown Mall.
Lynn and other staff were at the school Sunday evening, hard at work rearranging their classrooms, and organizing supplies as they shift the layout to accommodate the children whose classrooms were gutted.
The fire broke out about 11 pm Saturday, and initial inspection suggested the origin was electrical.
"Fire crews went into fire attack, " Fire Battalion Chief Mike Jones said at the scene, " and we had to upgrade to a second alarm just because of the amount of fire we had inside, basically heavy damage."
As many as thirty children come to the converted ranch-style house before and after school each day.
"Some people are going to find out tomorrow morning, " said Lynn, "when they arrive."
Although their building is off-limits, the kids will be ushered next door, into rooms normally occupied by preschoolers.
"Normally this was the little ones' nap room, now it's going to be their classroom," said Lynn, showing how rooms will be re-purposed.
Not so easy to overcome: the loss of school equipment and supplies, including many new teaching materials purchased with a grant the school just received.
"Dress-up stuff, puzzles, math and language, all kinds of stuff, " said Lynn sadly, " the whole entire school, everything you have, it's all gone."
During daylight Sunday, crews boarded up the broken windows and charred walls of the daycare.
"It's very sad, we saw a couple of parents crying, " said teacher Marbell Alvarez, " we want to let the community know, we're still open, and we'll try to do our best."
For awhile, it will mean some moving around for the kids, maybe tighter quarters than they're accustomed to, but at least they'll be together.
"A lot of them have been here since they were little teeny ones, and come here every day. We're open six to six-thirty so a lot of them spend the majority of their day here," observed Lynn.
The Children's Learning Center has been owned by the same family for 25 years, and already supporters have dropped off some donations to help replace what was lost.
The owner was out-of-town when the fire occurred, but staff said she was returning as soon as possible.