Sea lion pup rescued from roadway near Fort Funston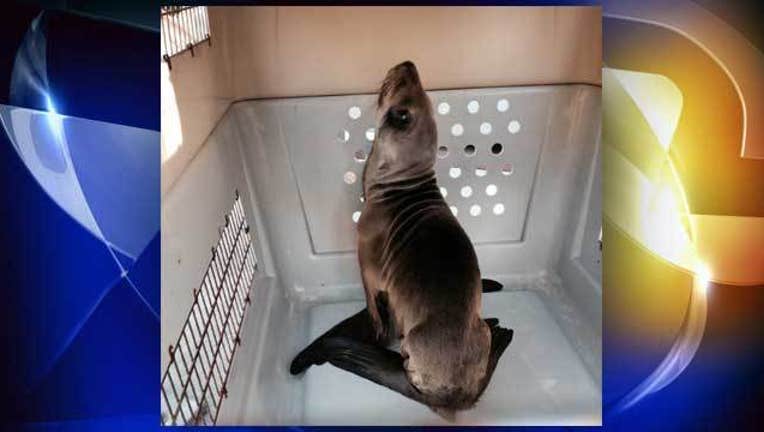 article
SAN FRANCISCO (KTVU) - The prognosis is good for a year old sea lion pup that survived near starvation and a desperate search for food that brought the animal nearly a quarter mile into San Francisco.
Commuters spotted the pup on Skyline Boulevard, near Lake Merced.
Matt Wallat, a National Park Service ranger, noticed the stopped cars and at first thought he'd come upon a motor vehicle accident. "I activated my emergency lights, and pulled over," said Wallat. "I see a couple of people on the side of the road, they're both talking on their phone, I look down and there's this sea lion pup. Kind of half-way under the car."
the sea lion was combative during the rescue and even bit the blankets that Wallat was using to guide the pup into a plastic tote bag for transport. Wallat was able to coax the pup into the tote, and bring him to the Marine Mammal Center in Marin County.
For his help rescuing the pup, Wallat got the honor of naming him. "Percevero, which is Latin to persist or persevere," said Wallat. "After the journey he had, knowing he was going to be able to be aided back to health and just be able to keep fighting on, and get through this ordeal he had, I thought it was appropriate to name him that."
The pup should weigh close to 80 pounds, but this pup tipped the scales at just 28 pounds. Percevero is just the latest malnourished Sea Lion pup to come ashore.
The staff at the Marine Mammal Center say the reason why so many pups are starving is still a mystery, and the center says its resources are being stretched to the limits taking care of more than 100 starving sea lions.
"We're a non-profit, all our funding comes from the donations of the public," said staff veterinarian Shawn Johnson. "The best thing the public can do for us right now is go to our website and help and donate so we can take care of these animals."
As for Percevero, the staff is hoping to double his weight over the next four to five weeks, and release him back to the wild.