SF Supervisor Kim proposes free City College for city residents, workers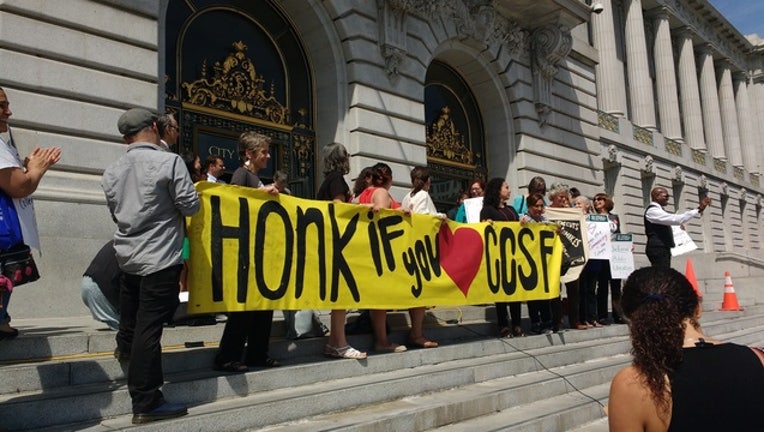 SAN FRANCISCO (BCN) - San Francisco Supervisor Jane Kim today announced a proposal to make City College of San Francisco free for those who live and work in the city.
   
The plan would eliminate tuition fees for San Francisco residents and for those who work at least half-time in the city, and also provide grants for low-income students receiving financial aid to help cover expenses such as transportation and textbooks.
   
"San Francisco is one of the most expensive cities in the world -- the cost of living has increased exponentially," Kim said. "When students have to make the choice between paying rent or paying tuition, buying groceries or buying textbooks, we have to act."
   
The proposal was announced in a rally on the steps of City Hall today with the backing of Supervisors David Campos and Norman Yee, San Francisco Board of Education President Matt Haney and City College students and faculty members, among others.
   
Haney, who led the crowd in a chant of "No cuts, no fees, education should be free!" said there was no reason a city as affluent as San Francisco could not offer a free community college education.
   
"From my position as the president of the board of education this would bring so much hope to so many young people," Haney said.
   
Kim is proposing to pay for the plan, which she said would cost around $12 to $12.9 million annually, with a November ballot measure that would raise the transfer tax by one-quarter of one percent for all property sales valued at more than $5 million and create a new 3 percent tax bracket for properties worth more than $25 million.
   
Kim said the tax, which she dubbed the "Mansion Tax," would generate an estimated $29 million annually for the city's general fund.
   
City College tuition is currently $46 a unit, or just over $1100 a year for full-time students.