SFMTA reports employee tests positive for COVID-19
SAN FRANCISCO - The San Francisco Municipal Transportation Agency announced Wednesday that one of its employees has tested positive for the COVID-19 coronavirus.
The SFMTA said after learning of the positive test Tuesday, "Our teams responded swiftly and appropriately and are in coordination with the Department of Public Health."
The agency said, "We also knew that once there were confirmed cases in San Francisco, it was inevitable that at some point at least one member of our staff would be directly affected."
The SFMTA has previously implemented measures to reduce risks for Muni operators and other staff, including mandating that operators close the security barrier between them and the public and providing disinfectant wipes to operators daily.
The union that represents Muni workers has been pushing for improved safety measures, but says it's gotten nowhere.
"They're talking about it and talking about it and talking about it. No more talking. We're sick and tired of talking," said Roger Marenco, president of Transport Workers Union Local 250A.
SF Examiner reports Muni drivers are refusing to accept cash fares and are asking riders to enter through the back door, though SFMTA has not made these measures official policy. In some cases they've even placed tape on their fare boxes and on the bus floor near the driver so riders don't congregate at the front of the bus. 
In the East Bay, AC Transit has suspended fare collection indefinitely. Meanwhile, SamTrans service on the Peninsula began back door boarding on Wednesday. Fare collection is discontinued until further notice.
Marenco wants to see SFMTA Muni do the same thing, rather than have riders paying fare in the box right next to the drivers.    
"Operators are not just concerned about their health. They are concerned about their lives. Their lives are at stake here," said Marenco. 
San Francisco Supervisor Matt Haney has voiced his support for the drivers' concerns. 
"I think it's unfortunate and it's really a shame that the bus drivers and train drivers are having to take this matter into their own hands as opposed to the [MTA] protect their own safety," Haney said. 
Another concern is social distancing on Muni buses themselves. Marenco says the fleet includes 30, 40 and 60-foot buses. "Each bus should only be allowed to carry a certain amount of passengers," he said.  
SFMTA said rear-door loading for passengers is not a good idea, because it would concentrate riders to one side of the bus, defeating the purpose of social distancing. 
People are encouraged to visit sfmta.com/COVID19 for the latest updates on the SFMTA's response to the coronavirus.
KTVU's Andre Senior contributed to this report.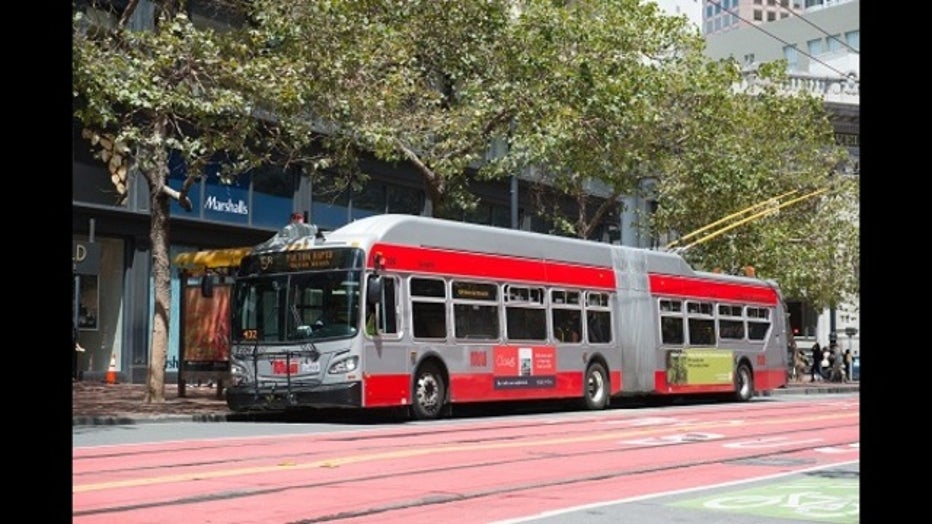 New Flyer Articulated Trolley Coach on 5R Route on Market Street | August 5, 2016 (SFMTA)