Sharks acquire goalie Martin Jones from Bruins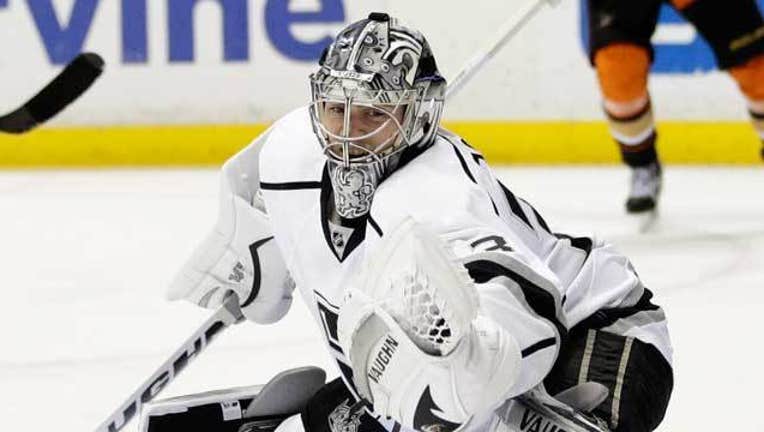 article
SAN JOSE, Calif. (AP) — Martin Jones was at the top of San Jose's list as general manager Doug Wilson went into the offseason searching for a starting goaltender.
As soon as Jones was dealt from rival Los Angeles to Boston, Wilson saw his opportunity to get him.
Jones was traded for the second time in five days on Tuesday, getting dealt from Boston to the Sharks for a 2016 first-round pick and unsigned forward prospect Sean Kuraly.
"We always look for people who fit for now and the future," Wilson said. "At 25 years of age he fits that quality dead on. With his size, quality of play and our familiarity with him, it was unanimous by our staff where he fit on that list."
Wilson said he never had discussions with the Kings about acquiring Jones before he became a restricted free agent Wednesday. But Wilson pounced as soon as Jones joined the Bruins as part of a package for left wing Milan Lucic.
Trade talks began between the two teams on the draft floor in Florida over the weekend before being finalized Tuesday. Now the Sharks head into free agency on Wednesday no longer looking for a goalie.
"It was a priority for us," Wilson said. "We've been working on this for a long time. We put a lot of time and energy into it at the draft in Florida. You identify the parts you really want and you aggressively go after them. That's what we did. We're very pleased it came together the way it did. We'd probably be pretty disappointed if we didn't end up acquiring this player at this time for this role."
The Sharks quickly locked up Jones long term. Agent Jarrett Bousquet said the two sides agreed Tuesday night to a $9 million, three-year contract.
With Tuukka Rask entrenched as the starter in Boston, the Bruins ended up flipping the pending restricted free agent Jones for more young players. In all, Boston got two first-round picks, defense prospect Colin Miller and Kuraly for Lucic. The Bruins used the pick from the Kings on defenseman Jakub Zboril.
The trade gives Jones the opportunity to be a starting goalie after spending the past two seasons as Jonathan Quick's backup in Los Angeles.
"I think I'm ready to definitely take that step and play more hockey games," Jones said. "I had a great two years in L.A. learning from Jonathan Quick. It's been a big couple of years in my development and I'm looking forward to the new challenge."
If Jones beats out Alex Stalock for the starting job in San Jose as expected, his first game for the Sharks could come in the season opener at Los Angeles on Oct. 7. That would put him on the other side of the fierce California rivalry.
"It's going to be fun to be honest with you," Jones said. "You get to play those guys a lot. Obviously they have a great team. To be able to play those guys is fun. I'm looking forward to it."
Although Jones played just 15 games last season, he has been a standout backup for two years in Los Angeles, winning his NHL-record first eight career starts in late 2013 before earning a Stanley Cup ring in 2014.
Jones has played 34 games and started 29 in two seasons as Jonathan Quick's backup on the Kings. He has a 16-11-2 record with a 1.99 goals-against average, .923 save percentage and seven career shutouts.
"When you can find a player who fits for now and the future we have no problem paying a cost for it," Wilson said. "We believe strongly in this player. After talking to him this morning he was really excited. He was behind a dominant goaltender in L.A. and would have been in the same situation in Boston. He feels like it's his time and we agree with him."
Kuraly was drafted by San Jose in the fifth round in 2011. He had 19 goals and 10 assists in 40 games for Miami University last season. He is entering his senior season.
The Sharks also officially announced the signing of defenseman Brenden Dillon to a $16.35 million, five-year deal that had been agreed to on Monday.
San Jose also issued qualifying offers to restricted free agent goalie Aaron Dell and forward Daniil Tarasov. Goalie J.P. Anderson, defenseman Taylor Doherty and forwards Eriah Hayes and Rylan Schwartz were not tendered offers and will be unrestricted free agents.